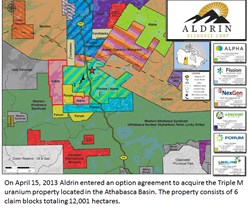 Vancouver, BC (PRWEB) January 21, 2014
Recent merger activity in Saskatchewan's Athabasca Basin is amplifying investor interest in a uranium basin that is already supplying 20% of the world's uranium.
On December 9, 2013 joint venture partners Fission Uranium and Alpha Minerals received shareholder approval to merge interests in the Patterson Lake South property. Fission retains a 100% interest in the property, while both companies spun out their non-core assets into new exploration companies.
Good drill results continue for Fission. On December 31, 2013 the company announced that it had hit 18.52% U3O8 over 3.5m at the R945E Zone.
"The chances that Fission and Alpha are the only ones that have uranium on their property is probably relatively low," states David Talbot, a senior uranium analyst with Dundee Capital Markets, in a recent interview with Resource Clips, "This is an area play because these are area-type deposits."
Aldrin Resource Corp (ALN-TSX.V) controls 12,000 hectares on strike to Patterson Lake mineralized trends. Aldrin's "Triple M Property" has strong potential to host high-grade basement uranium mineralization along the same structures mineralized at Patterson Lake and Derkson Lake.
On January 15, 2014 Aldrin announced a 3,000 meter drilling test of its priority basement conductors located in the southeast block of the Triple M Property adjacent to the south boundary of Fission property at Patterson Lake.
The SE block target area has good access. Depth to the top of the target zone is expected to be relatively shallow, ranging from 75 to 130 meters. Aldrin has received all required government drill permits.
Aldrin's winter exploration program will begin by February, 2014 with construction of a drill road and camp. Using this access and camp, Aldrin plans to complete in-fill gravity and radon measurements over priority target areas to further refine drill collar locations.
Drill targets are supported by coincident gravity lows, radon highs, linear bedrock conductors and geological mapping.
The winter drilling program will test two priority basement conductive anomalies. Drill target #1 is a conductive anomaly that extends more than 3.5 kilometers striking east-northeast across the SE block. Drill target #2 is a conductive anomaly that extends 2.5 kilometers striking east-northeast. Both structures exhibit similar geology to the Patterson Lake discovery, as well as most high-grade uranium mineralization from the Athabasca Basin.
Multiple drill holes will be used to test drill target #1 and #2. The holes are expected to average about 200 m in depth, although they may be go deeper if mineralization is evident.
Early in 2013, Aldrin was a shell company with cash that had been given a mandate by its board to identify a high grade uranium asset in Canada. The board anticipated that the price of uranium was going to rebound, and that Canada was the best place to be.
"The Triple M property was staked 1 year before the Patterson Lake Discovery," states Aldrin CEO and Director Johnathan More in an exclusive interview with Financial Press, "So it wasn't just an area play where we were trying to get an address next to a discovery. Aldrin's land acquisition was based on the same geology that Alpha and Fission used to design their drill program."
"The anomalies we discovered from the initial airborne survey matched the predicted corridor from the historical data," confirms More, "we have established strong basement conductors parallel to the Patterson Lake fault."
On December 4, 2013 Aldrin announced completion of a ground gravity survey on the Triple M Property. Preliminary analysis identified gravity anomalies coincident with the priority drill targets already established. The results confirm the potential for bedrock uranium mineralization.
The gravity survey was based on data collected from 871 unique stations. The survey covered two parallel strong bedrock conductors previously identified from a VTEM airborne geophysical survey.
The gravity anomalies coincided with the bedrock conductors previously highlighted by high radon anomalies. Radon geochemistry is an established exploration tool in the Athabasca Basin. Radon distribution is a strong indicator of shallow uranium mineralization. Radon anomalies coincident with basement conductors often point to primary drill targets.
Major mines in the Athabasca Basin include McArthur River (16.5% U3O8), Maclean Lake (50 million lbs produced), Rabbit Lake (186 million lbs produced), Cigar Lake (22.3% U3O8), Cluff lake (60 million lbs produced).
"It is important to note that we have taken the same steps with Triple M that Fission-Alpha took to make their discovery," states More, "In fact we have used a lot of the same contractors and so have benefited from their experience working this geological trend. We are not inventing the wheel here. We are methodically developing a uranium project in a proven uranium basin".
Aldrin's exploration program has gone like clockwork. "The program has been relatively inexpensive because everything we predicted from the inherited data has turned out to be true," states More, "We believe the basement structures running parallel to the faults will be mineralized in uranium. We intend to execute Beta-test drilling in the spring of 2014". Currently, Aldrin management owns about 30% of the company and they continue to add to their positions.
On December 31, 2013 - Aldrin announced that it had closed its non-brokered private placement raising $926,429 through the issuance of 9,751,888 flow-through units at a price of $.095 per unit. Aldrin management took down about $375,000 out this latest financing.
"Since Fission- Alpha opened up a new area of the basin," explains More, "companies operating close to them with good prospective targets have a shot at developing additional mines. We are a parallel structure to them. The Aldrin property is part of the same tectonic system".
France currently receives 75% of its electricity from nuclear energy, Belgium 51%, Sweden 38%, South Korea 30%, the United States 19% and the UK 18%. China receives only 1.9% of its electricity from nuclear. It is still more than 70% dependent on coal.
China has 28 nuclear reactors under construction, with another 49 planned and 120 proposed. Vietnam, Turkey, Indonesia, Egypt and Kazakhstan are all building their first reactors. Uranium shortfalls are looming.
The Athabasca Basin contains known uranium reserves with the energy equivalent of 19 billion barrels of oil.
"We are becoming more confident in our drill targets at the Triple M Property," states More, "because each survey method we employ yields coincident anomalies consistent with uranium mineralization below."
"We believe our winter 2014 drill targets on the SE block of the Triple M Property provide some of the strongest possibilities for discovery of any that will be tested this year by the various companies exploring the southwestern Athabasca Basin region."
Aldrin is currently trading at .08 with a market cap of $7.2 million.
Legal Disclaimer/Disclosure:
A fee has been paid for the production and distribution of this Report. This document is not and should not be construed as an offer to sell or the solicitation of an offer to purchase or subscribe for any investment. No information in this article should be construed as individualized investment advice. A licensed financial advisor should be consulted prior to making any investment decision. Financial Press makes no guarantee, representation or warranty and accepts no responsibility or liability as to its accuracy or completeness. Expressions of opinion are those of the author's only and are subject to change without notice. Financial Press assumes no warranty, liability or guarantee for the current relevance, correctness or completeness of any information provided within this article and will not be held liable for the consequence of reliance upon any opinion or statement contained herein or any omission. Furthermore, we assume no liability for any direct or indirect loss or damage or, in particular, for lost profit, which you may incur as a result of the use and existence of the information, provided within this article.
Also, please note that republishing of this article in its entirety is permitted as long as attribution and a back link to FinancialPress.com are provided. Thank you.