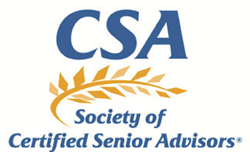 Attendees of the CSA education course will gain the knowledge and tools necessary to work more effectively with their senior clients.
Denver, CO (PRWEB) January 21, 2014
The Society of Certified Senior Advisors (SCSA) announces a new class location for its bestselling Certified Senior Advisor (CSA) course in Atlanta, January, 28-31. The CSA course teaches anyone who works with older adults about the strategies and tactics for working more effectively with the senior customer. CSA courses are held in locations around the country. See the upcoming class locations at Certification Classes.
Attendees of the CSA education course will gain the knowledge and tools necessary to work more effectively with their senior clients. This course covers why a comprehensive understanding of the unique goals and challenges facing seniors today helps to better serve and protect them. This is an in-depth class with first-rate faculty and rewarding results for both attendees and their senior clients. The CSA course coming to Los Angeles will be taught by SCSA's expert instructors Jane Barton and Bill Yurkovac.
Jane W. Barton, MTS, MASM, CSA is a passionate speaker, writer, and listener. Jane is the founder of Cardinal, LLC, a consulting firm that provides educational programs to assist people in confronting the daunting challenges posed by aging, serious illness and disability. Jane is well-versed in the areas of grief and bereavement, caregiving, hospice and palliative care, change and transition, and spirituality and health. She presents innovative, transformational programs to community members, healthcare providers, pastoral caregivers, clergy, funeral service providers, and national audiences to improve the experience of people and families challenged by serious, advanced, or terminal illnesses. Previously, Jane served as Director of Education for a hospice and palliative care institute. She has also served as a hospice chaplain. Jane is a certified Spiritual Director as well as a Certified Senior Advisor. In a former life, she worked as a financial services representative and an exploration petroleum geologist and manager. Visit Jane's website at cardinalife.com.
William P. Yurkovac, CFP®, is a financial planning team member with Arnold, Gentleman & Associates in Naples, Florida. He provides a wide range of financial planning and consulting services specializing in estate planning, wealth management and preservation. A native of Western Pennsylvania, Bill attended Duquesne University in Pittsburgh where he graduated with a Master's Degree in Education. Bill has over thirty-five years of experience in financial planning from experience as an independent financial advisor and private banking. Bill received his certification in 1990. Bill has served as an instructor in the multiple courses in the Certified Financial Planner™ certification program of study as well as review courses for the certification examination since 1998. He also has served on the Board of Directors of several community based non-profit organizations, as a mentor in the Take Stock in Children program, and serves as the treasurer of his local church. Bill is a member of the Financial Planning Association and the Estate Planning Council of Naples. He and his wife, Leslie, are residents of Naples and have four children and two grandchildren.
The CSA Course will be held at the Doubletree by Hilton Atlanta - Northlake. Following the at-home study program, the optional class review will be held over the first three days of class. For more details on the course curriculum and comprehensive study materials, please visit Working with Seniors.
Attendees of the CSA class review have the option to sit for the CSA Exam following the 3 days of class. In order to become Certified Senior Advisors, candidates must pass the CSA Exam in addition to meeting all certification requirements.
About SCSA
Individuals who earn and maintain the Certified Senior Advisor (CSA)® credential are entitled to become members of the Society of Certified Senior Advisors (SCSA), an organization dedicated to helping professionals understand the key health, social and financial issues that are important to older adults. Founded in 1997, SCSA offers a vast array of resources and education specifically related to issues affecting seniors.