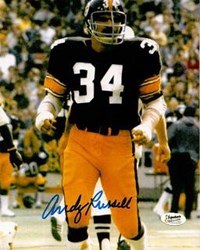 "The greatest team ever was the Pittsburgh Steelers." Haley said. An ardent Steelers fan himself.
Pittsburgh,pa (PRWEB) January 21, 2014
Neil Haley, The Total Tutor host of the Total Education Celebrity Show, on the Simply G Media Network, interviewed Andy Russell who discussed his experiences playing with the Steelers and as well as his greatest memories.
Russell, a member of the NFL's "300 Greatest Players" and the Steelers team captain for 10 years, was a linebacker for 12 years in the NFL. He was selected to the All-Pro Rookie Team in 1963, 7 Pro Bowls, won two Defensive MVPs, a Team MVP and was part of two Super Bowl Championship teams. Early in his career, though, he took a two-year hiatus to fill an ROTC commitment in the army.
In this interview, Russell discusses playing football in the army for two years then coming back to not-so-good Steelers teams. But then, something changed.
"All of sudden we had this fantastic coach." Russell said. "Chuck Noll was great evaluator of talent. The Steelers started to get good players and drafted four or five hall of famers."
According to Russell, Noll did not like the way he played and felt that he was out of control. Noll wanted Russell to anticipate what the opponent would do.
Russell also discusses some of the great mentors he had during his career, including Sam Davis, Rocky Blier, and Ray Mansfield.
"The Chief Art Rooney was a great guy," Russell said. "We played for a great organization and it motivate us to want to do our very best."
"The greatest team ever was the Pittsburgh Steelers." Haley said, an ardent Steelers fan himself.
Also, in the interview Russell discussed his foundation, Taste of The NFL, and other projects.
You can find out more information on Andy Russell by clicking here. You can listen to the interview by clicking listen here."