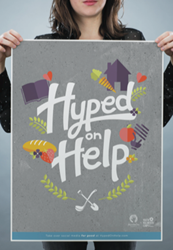 Bringing utility to a non-profit like Hands On Nashville is the kind of work we can truly be proud of.
Nashville, Tennessee (PRWEB) January 20, 2014
redpepper, a Nashville-based, award-winning advertising agency, announces Hyped on Help, a campaign to elevate the online presence of local service organization, Hands on Nashville (HON).
The integrated campaign was concepted, written, and developed in under 24 hours as part of redpepper's participation in CreateAthon 2013, a 24-hour marketing blitz during which creative agencies, professional organizations, and universities provide pro-bono services to under-funded local non-profits.
The Hyped on Help campaign includes posters, social initiatives, specially designed t-shirts, swag and a customized, youth-centered Tumblr blog. The blog serves as a hub to spotlight youth volunteers' experiences through posts, photos, and social shares. By engaging teens online, redpepper hopes to raise awareness for the over 400 monthly service opportunities HON provides.
"'We accepted the challenge to take an established volunteer resource and market it to teenagers - no small feat," said Tim McMullen founder and executive creative director at redpepper. "Everything about the campaign — the blog, the design, the user experience, the attitude — it was all made to fit into a teen's world. Bringing utility to a non-profit like HON is the kind of work we can truly be proud of."
redpepper is one of fourteen agencies in North America that hosted their own CreateAthon as part of Pro-Bono week that kicked off on October 20, 2013. During it's seventh year of participation, redpepper produced marketing materials for four worthy non-profits. Other recipients of redpepper's 2013 CreateAthon grants, were Nashville's St. Luke's Community House, The Tennessee Respite Coalition and Atlanta's Kate's Club.
About redpepper:
Ad agency by day, invention lab by night, redpepper is an award-winning integrated marketing agency with offices in Atlanta and Nashville. They have achieved a 10-year run of growth in clients, revenues, and profits, and have been recognized as one of the 5000 fastest growing companies in the country by Inc. Magazine for five years running. Partners Tim McMullen and Dave McMullen achieved the equivalent of a marketing double play with back-to-back Agency Marketer of the Year Awards (Atlanta 2009 and Nashville 2010). redpepper's creative work has been recognized with more than three dozen national and regional industry awards. The agency has also received global coverage for their marketing innovation in a variety of outlets from CNN and 60 Minutes to TechCrunch and Slate. To learn more, please visit http://www.redpepperland.com.
About Hands On Nashville:
Celebrating its 23rd year as Middle Tennessee's volunteer resource center, Hands On Nashville connects volunteers to critical community needs. In 2010, HON connected nearly 200,000 volunteers to service, making it the largest mobilizer of volunteers among all Hands On Network affiliates. Facilitating volunteer work for 400-plus Middle Tennessee nonprofits, schools and government agencies, HON supports 25 critical community needs ranging from hunger and homelessness to at-risk youth and animal welfare. HON challenges everyone to find a way to give back and to volunteer. To find out how, check out http://www.hon.org or call (615) 298-1108.