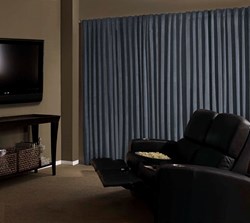 New York, NY (PRWEB) January 28, 2014
The essential Super Bowl items usually involve food and beverage, but what about decorating ideas that can make the big game even more enjoyable? Ellery Homestyles has the easiest decorating tips to turn any viewing area into the ultimate game day destination.
To increase screen visibility, try total blackout curtains like Absolute Zero Curtains. Turn any living room into a Man Cave in one easy step. Choose colors that complement the décor so the panels add a touch of fashion and can be used year-round, and especially for movie night.
Not looking to spend a lot on decorations? Look for football themed items that are lying around the house. Use items like old trophies, jerseys and anything football to keep everyone in the spirit. Shy away from team-specific items so the decorations can be used over and over.
Looking to keep the party smelling fresh while still enjoying the game? Try a simple decorating trick by letting the drapes do the refreshing. Sheers like Curtain Fresh Curtains, neutralize odors as they hang so no one has to be on deodorizing duty.
To make sure everyone stays interested and entertained, use printouts to place bets, play games and even award prizes. Pass out printouts in plastic cups with guests' names on them so everyone has their own party packet of goodies.
For more tips and tricks visit Homestyle Brands.