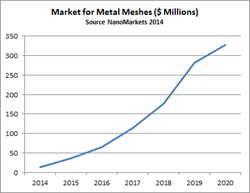 Glen Allen, VA (PRWEB) January 21, 2014
Industry analyst firm NanoMarkets has released a new report on the transparent conductor (TC) market that claims that metal meshes will generate $327 million in revenues in 2020. According to NanoMarkets, metal meshes have overcome the technical issues that had previously limited their expansion into a variety of TC applications and are poised to become a strong niche contender among the choice of ITO alternatives.
For additional information about the report please visit http://nanomarkets.net/market_reports/report/markets-for-metal-meshes-as-transparent-conductors-2014
About the Report:
NanoMarkets is issuing this special industry analysis report on the markets for metal meshes. This report contains a granular seven-year forecast of the metal mesh market, with break outs by volume and value and the type of application.
We also discuss the strategies of the growing number of metal mesh manufacturers, many of which have recently reported performance improvements in recent months. This report takes a look at all these companies and evaluates their offerings, capabilities, and readiness for volume production.
Companies addressed include 3M (United States), Atmel (United States), Dai Nippon Printing (Japan), Epigem (UK), Fujifilm (Japan), Gunze (Japan), Hitachi Chemical (Japan), JTOUCH Corporation (Taiwan), Mirae Nanotech (Korea), O-film Tech Co. (China), PolyIC (Germany), Rolith (United States), Toppan (Japan), UniPixel (United States), Visual Planet (UK), Young Fast (Taiwan) and Zytronic (United States)
From the Report
The use of metal meshes as transparent conductors has increased in the past year and NanoMarkets believes that the technology will continue to gain market share. The greatest opportunity today is in touch screen display sensors, but the firm expects OLED lighting and PV technologies to take on a greater importance toward the end of the forecast period. Other applications that can use metal meshes are transparent EMI shielding, where printed meshes can replace etched copper grids, and transparent heating films, where metal-based TCs have the advantage of faster heating rates than ITO.
Metal meshes have overcome the technical issues that previously limited their expansion into a variety of TC applications, and many suppliers are entering the market. NanoMarkets also believes that metal meshes are now easier to manufacture than competing alternative transparent conductors.
In NanoMarkets' estimation metal meshes do have a role to play in the future of the TC market as a strong transparent conductor in several applications. However, the firm cautions that the metal mesh market should be viewed as a niche market that will take years to develop. In the firm's latest report, NanoMarkets projects that metal meshes are forecast to make up only 0.3 percent of the total TC market this year, building to 7.2 percent by the end of the forecast period.
About NanoMarkets:
NanoMarkets tracks and analyzes emerging markets in energy, electronics and other area created by developments in advanced materials. The firm is a recognized leader in industry analysis and forecasts of in the transparent conductor industry.
Visit http://www.nanomarkets.net for a full listing of NanoMarkets' reports and other services.
Contact:
Robert Nolan
NanoMarkets
(804) 938-0030
rob(at)nanomarkets(dot)net