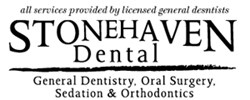 Salt Lake City, UT (PRWEB) January 20, 2014
Stonehaven Dental offices in Utah already offer a payment plan that allows patients without healthcare to acquire affordable dentistry. In addition, they also have expanded their insurance options. Due to the consequential impressive plethora of insurance agencies and policies, Stonehaven Dental has elected to widen their assortment of accepted policies and insurances, broadening their services for even more potential clients to enjoy.
By accepting a wider variety of insurances, Stonehaven Dental has yet again set the standard among dentists in South Jordan, Utah. Their dental offices are already known for their superior service and excellent dentist-patient relationships. This wider selection of insurance options allows them to accept more patients. It not only adds to their business finances but also greatly assists those who would not have otherwise been able to afford such fine dental procedures. No mother should have to scrape the barrel for her child to have a tooth cleaning, nor should a college student have to forgo important dental work because they're struggling with their personal finances. By accepting a great multitude of insurances and making their services more accessible as a result, Stonehaven proves that they are truly the idyllic dentists in South Jordan for not only individuals but also families in general.
Now, more potential patients than ever before will be able to fully take advantage of the excellent dental services that Stonehaven offers. Since they're accepting more insurance plans and policies, these dental geniuses have proven that they're in it to win it. Not only do they gain more patients to further their professionalism and improve their practice but also their patients now have more access than ever before to the much needed services that they offer at their plural locations throughout the Salt Lake valley. Stonehaven has done everything in their power to ensure the availability of their services to clients so that no one will ever have to skip a routine checkup or forgo a dire root canal ever again due to lack of fiscal resources. For more information, or to find out which insurances they accept, visit their website at http://stonehavendental.com/.