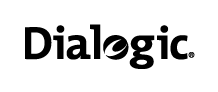 "We completed the upgrade and product migration smoothly and efficiently," said Stig Roberg, product manager at Network Norway.
Parsippany, NJ (PRWEB) January 21, 2014
Dialogic Inc., the Network Fuel® company, today announced that Network Norway upgraded its existing hosted unified communications (UC) offering with integrated solutions from Dialogic and Gintel that are delivering media-rich communications and uninterrupted service to customers. Gintel deployed Dialogic's signaling server, software media server and integrated media gateways to solve integration challenges and offer enhanced conferencing and auto-attendant capabilities for the Norwegian service provider, which resulted in superior signaling session performance, reliable service and increased market share.
Gintel implemented the Dialogic® BorderNet™ 2020, an integrated media gateway and session border controller, Dialogic's PowerMedia™ XMS software media server, and Dialogic® Distributed Signaling Interface (DSI) Protocol Stack to manage all integration challenges faced by Network Norway on an easily scalable solution without downtime. The updated Network Norway system has successfully been in production for more than a year, with the Dialogic products helping the Norwegian mobile network operator manage all traffic via session initiation protocol (SIP) regardless of originating network, connect any user on any network to the platform, tailor services to meet the needs of tens of thousands of subscribers, and provide differentiation in a saturated market. Since the upgrade, Network Norway has dramatically increased its subscriber base.
"We completed the upgrade and product migration smoothly and efficiently," said Stig Roberg, product manager at Network Norway. "Prior to the upgrade, our existing solution, also based on Gintel and Dialogic, had been in service for more than five years – it was essential that migration to the new infrastructure didn't disrupt our services. Thanks to the efforts of the team, we had a graceful transition and our customers continued to enjoy the service levels and reliability they expect."
Network Norway has been working with Gintel's Easy Virtual PaBX platform dating back to service launch in 2007. Since that time, it has been able to considerably differentiate its services and build market share by targeting the enterprise and SME segment in the otherwise saturated Norwegian mobile market. The ability of Gintel's hosted mobile PBX application to scale for the service provider's flagship Mobile Office product provided a platform for uninterrupted service ready for seamless integration with Dialogic's solutions.
Andrew Goldberg, senior vice president of marketing and strategy for Dialogic, said, "In the highly competitive mobile market, service providers refuse to sacrifice quality to deliver differentiated services for end users and stand their ground against costly capital expenditures. Dialogic's offerings amplify existing networks and enhance any-to-any connections such that service providers can future-protect their systems without interruption for maximum customer satisfaction and return."
About Dialogic
Dialogic (OTCQB:DLGC), the Network Fuel® company, inspires the world's leading service providers and application developers to elevate the performance of media-rich communications across the most advanced networks. We boost the reliability of any-to-any network connections, supercharge the impact of applications and amplify the capacity of congested networks. Forty-eight of the world's top 50 mobile operators and nearly 3,000 application developers rely on Dialogic to redefine the possible and exceed user expectations.
For more information on Dialogic and communications solutions energized by our technology, visit http://www.dialogic.com and http://www.dialogic.com/showcase. Also, visit our social media newsroom for the latest news, videos and blog posts.
Dialogic, BorderNet, PowerMedia and Network Fuel are either registered trademarks or trademarks of Dialogic Inc. or a subsidiary thereof ("Dialogic"). Other trademarks mentioned and/or marked herein belong to their respective owners. Information regarding the availability and performance of the Network Norway solution was provided by Network Norway.
About Network Norway
Network Norway AS is a telecommunications operator that serves 450,000 customers and is based in Oslo, Norway. As the third holder of a GSM license in Norway, Network Norway brings more than 20 years of experience to its business segment, and its goal is to make the work day easier with services tailored to each customer's needs.
For more information, visit http://www.networknorway.no.
About Gintel AS
Gintel delivers a range of value-added services to mobile network operators that generate revenue, profit and offer rapid return on investment. Our solutions enable MNOs, MVNOs and other Service Providers to offer a range of cloud-based or hosted services to enterprise, SME, and consumer subscribers.
These services include enterprise applications such as Mobile Unified Communications, Mobile PBX, IP Centrex, and Virtual Contact Centres; and consumer-focused applications such as Parental Control, Home Zone and Family Calling Packages.
Members of the leading operator groups from around the world such as Telenor, H3G, Tele2, Axiata and others have chosen Gintel's expertise and experience to drive revenue, profit and growth. For more information about Gintel, please visit: http://www.gintel.com.