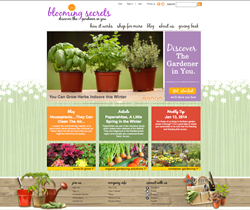 Bristow, VA (PRWEB) January 22, 2014
Blooming Secrets, a new online personalized service and ecommerce gardening site allows consumers to develop their own personal online profile that suggests products to purchase and grow in their garden based on where they live, their experience level and their own unique interests. The site also includes original content, tips and gardening advice. Featured content will be centered on seasonality, current gardening trends and topics of interest to customers. In addition to personalized product offerings there are numerous gardening categories of products to purchase.
The service is free and in addition to serving up personalized product selections; completing the online profile provides subscribers with additional content and advice for success with their product selections as well as guidance on maintaining their indoor and outdoor gardens. The site's interactive feature allows customers to post questions and encourages all gardeners to post their tips and share their experiences and ideas to help others.
According to avid gardener and co-founder, John Toepfer, "The two biggest impediments to successful gardening are not knowing how to get started and not having time to learn to garden. Blooming Secrets offers a solution to both of these obstacles by providing gardeners with products tailored to their specific situation and advice on how to succeed with their selections. We give people the chance to experience and discover more about one of the most popular hobbies, gardening."
Key categories of focus for the site this year are Herbs and Container Gardening. These areas of focus are based on current industry trends and staff expertise. The site has an array of other plants and products in these categories and others as well as, tools and gardening supplies. Blooming Secrets is also offering a variety of products grown especially for its customers that are available for purchase starting in January and will be shipped at the appropriate time for Spring planting. These products will consist of popular vegetables such as tomatoes and peppers, an assortment of herbs including variety packs that will contain multiple types of herbs in a 6-pack and container and hanging basket selections designed to help gardeners easily blend flowers into brilliant color combinations.
Giving Back to Charities
In addition to inspiring consumers to learn the joys of gardening; Blooming Secrets is committed to making a positive impact on our environment by supporting gardening and conservation organizations. The business will make a donation from every sale to one of six organizations. Purchasers will be able to select which organization they want to receive a donation at checkout. These organizations include: National Park Foundation, National Gardening Association, American Horticultural Society, Audubon Society, National Garden Clubs and The Nature Conservancy.
"Blooming Secrets' goal is to support the environment by connecting consumers with charitable organizations that also support this cause," said Susan Brandt, co-founder of Blooming Secrets. "It is important for us to do our part by giving back and working with these respected organizations."
Blooming Secrets is headquartered in Bristow, VA and is funded through seed financing from private investors.
About Blooming Secrets
Blooming Secrets is an online personalized service and ecommerce gardening site. Launched in November 2013, the site offers original content and monthly selections of flowers, plants and products based on a customer's own personal preferences. To sign up for Blooming Secrets, visit http://www.bloomingsecrets.com. You can also find us on Twitter: http://www.twitter.com/bloomingsecrets, Facebook: http://www.facebook.com/BloomingSecrets, and on Pinterest at http://www.pinterest.com/BloomingSecrets.