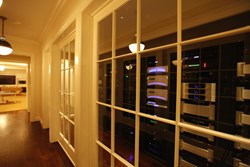 Everyone who has stepped foot in this amazing home leaves with their jaw dropped.
New York, NY; Los Angeles, CA; Boca Raton, FL (PRWEB) January 21, 2014
Audio Command Systems Inc. ("ACS" or the "Company"), ranked by CE Pro Magazine as one of the top 3 companies in the electronics systems contractor industry for seven consecutive years, today officially announced receiving the Integration Award for "Biggest, Baddest Home" at this year's CEDIA (Custom Electronics Design and Integration Association) Expo in Denver, CO.
The "Biggest, Baddest Home" award was presented to ACS by Crestron, the leading provider of control and automation systems for homes and commercial applications. The annual competition recognizes large scale, full home integration projects that take home A/V and automation technology to the "next level," and are revealed each year at the CEDIA Expo banquet.
The ACS submission focused on a 42,000 sq ft home in Greenwich, CT. Robert Kaufman, the Company's CEO state, "A primary goal of the integration and installation was to make control of the entire home as user-friendly as possible for our client."
This pristine home has a fully-integrated Crestron system controlling A/V, HVAC, Lighting, Shades, a State-of-the-Art Home Theater, an Audiophile Two-Chanel Listening Room, Motorized Exterior Doors, Security Cameras, and Pool functions. The engagement also included the respected world-class lines of Lutron, Digital Projection, CAT MBX and Kaleidescape.
The system was designed so that each person in the home has their own dedicated Cable/Satellite box via the Crestron DM system. In addition to a whole-house UPS system, the client had a flywheel installed to provide a bridge between utility and generator power should the grid fail. ACS was given a dedicated room with a raised computer room floor to house the components and more easily manage the 26 miles of cabling that ran throughout the property.
"Everyone who has stepped foot in this amazing home leaves with their jaw dropped," said John Clancy, Executive Vice President and Chief Technology Officer of ACS. "It was definitely a challenge, but the end results look and sound amazing. When Crestron announced the award contest for 'Biggest, Baddest Home," we simply had to enter," Clancy added. "Having a satisfied, lifetime client is the real prize. Winning was just icing on the cake."
About ACS
Established in 1975 by Robert Kaufman (CEO), Jonathan Flamm (President) and John Clancy (Executive Vice President and Chief Technology Officer), ACS quickly attained national recognition and a track record of industry excellence. The Company gradually transitioned from a focus on audio solutions to integration expertise for all the technology available for modern homes and offices. As they expanded from New York to locations in Southern California and South Florida, their reputation for designing and installing custom systems for discerning clients throughout the world grew rapidly.
ACS is a factory-authorized and trained designer integrator and installer of the finest A/V, Lighting Control, Motorized Shading, Network, and Home Automation equipment available. ACS designs and installs a wide range of system types, at multiple price points or budgets, ensuring that systems meet today's client's varying demands. ACS's constant drive is to master new technologies to improve the lives of its customers, while making these solutions simple to operate and manage.
ACS (Audio Command Systems) has been in business for over 38 years and has offices in NYC and Long Island as well as Los Angeles and South Florida.
Please visit the new elegant ACS website at http://www.audiocommand.com.