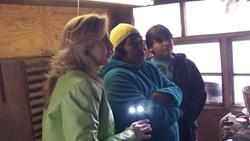 Solar light is safe, bright and non toxic.
Luling, TX (PRWEB) January 21, 2014
Before Christmas, the Austin American Statesman newspaper ran a story about Agustina Mandujano. Agustina is a 44 year old woman living with cancer and trying her best to survive while supporting three children and living in primitive conditions. She and her family live in an old cramped trailer with peeling paint and cracked linoleum floors. It holds small beds that the children have outgrown. They live with intermittent electrical service or running water. Her kitchen is a small but well organized shack, and her bathtub is a large drum of water in another small shed. Agustina has survived 2 mastectomies and continues to smile as she has hopes for a better future for her children.
After this article was printed, the Texas Solar Energy Society wanted to help Agustina Mandujano and her family, who live in Luling. Lucy Stolzenburg, Executive Director of the Texas Solar Energy Society, contacted her friends at the Grid Earth Project, a local charity that is involved in providing solar lights for poor families around the world.
On New Year's Eve, Lucy and Audrey paid a visit to Agustina's home and met with her and her three children. During this meeting Agustina and her family were presented with solar powered Waka Waka Lights that will provide an adequate light source for cooking and reading. They also received a Waka Waka Power which in addition to providing light will allow them to keep a cell phone charged in case of an emergency.
Agustina and her family have such a positive outlook on life, in spite of the many adversities that have come their way. It was with a warm and gracious smile that Agustina greeted us into her humble but well organized kitchen and tried out the new lights for the first time. It is amazing that a simple thing that most of us take for granted, like a light, can have in some peoples' lives. For Augustina, this means that at night, she and her family can navigate their cooking and plumbing needs without fear of a mishap and that light for the children's studies is available and free of utility costs.
The Mandujano family is persevering in a way that is inspirational. The Texas Solar Energy Society and the Grid Earth Project are both happy to play a small part in this.