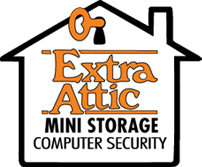 Richmond, VA (PRWEB) January 21, 2014
Extra Attic has four self-storage locations at near-full capacity in Richmond, VA. To protect current and future self-storage users at these locations from loss – financial and material – Extra Attic recently started offering its clients insurance options to safeguard stored valuables. People who currently have a unit with Extra Attic may purchase insurance provided by Storage Business Owners Alliance (SBOA) Tenant Insurance at different rates for different forms of coverage.
According to SBOA's website, people who purchase insurance through SBOA are protected from potentially damaging events such as natural disasters like hurricanes, tornados, windstorms and hail; falling objects; building collapses; burglary with forcible entry, and other actions of malicious intent. Coverage for the everyday self-storage user ranges from $2,000 to $5,000 with monthly premiums at $8-$25/month. Coverage for people who store more expensive items goes up to $20,000 and requires a separate discussion with SBOA representatives for monthly premiums.
Some of the incidents SBOA insurance does not cover include flooding (rain), burglary with forceless entry, and wear and tear (mold, rodent and vermin damage). It also doesn't cover high-risk, high-security items like jewelry, money, securities, antiques and furs.
Extra Attic decided to offer insurance through SBOA instead of other providers because of the testimonials of other storage facilities throughout the country. According to Extra Attic, SBOA also has a way of relating well to the owners of storage locations because the insurance company was created by self-storage owners for self-storage owners.
Earlier this year, SBOA received the 2013 Best Tenant Insurance award by Inside Self-Storage (ISS).
About Extra Attic:
Extra Attic is a self-storage company based in Richmond, VA that was founded over 35 years ago. Since its beginning, the Extra Attic team has remained committed to offering residents and frequenters of Richmond secure, convenient and affordable self-storage. All of its four locations in the Richmond area are properly monitored, protected and maintained. And with a variety of storage sizes and pricing options, Extra Attic offers everyone a desirable storage solution for their unique lifestyle, budget and needs.