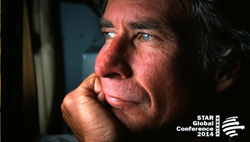 New York and London (PRWEB UK) 21 January 2014
CD-adapco™, the largest privately held CFD-focused provider of Computer Aided Engineering software, announced the keynote speaker, David Breashears, at its STAR Global Conference 2014 held March 17-19 in Vienna, Austria.
LEARN TO CLIMB ANY MOUNTAIN: This year's keynote address is from David Breashears, world-renowned climber, adventurer and filmmaker. He will give a gripping firsthand account that includes breathtaking and rarely seen images from his IMAX Everest expedition. Breashears will dramatically recount the vision, courage, and passion that led his team to reach the summit.
Mr. Breashears will speak about driving success through teamwork and the importance of leadership, resource management and tool selection to overcome the greatest obstacles. Attendees will understand the life and death importance of accounting for variability "slack" in the design of a critical mission.
GO BEYOND THE LIMITS: This year's event will take attendees beyond the limits of CFD and allow them to explore the benefits of "Simulating Systems". CD-adapco will host over 120 leading industrial experts who will reveal the secrets of their engineering success and explore the tangible benefits of using STAR-CCM+. Participating companies include, but are not limited to:
Active Space Technology
Alstom Transport
Areva
Atkins Energy
B&B-AGEMA
Bombardier
The Boeing Company
Cervélo
Daimler
DENSO Marston
Formula FEI Racing Team
General Motors
Honeywell India
Hyundai Motor Company
Imperial College London
Lotus F1 Team
Modine Europe
Ove Arup & Partners
Philips Research
Tetra Pak
US Navy
Volkswagen
Zumtobel Group
POWER UP YOUR ENGINEERING SKILLS: Attendees build their own training day agenda, choosing from 11 workshops, each of which is a deep dive into a specific area of engineering simulation. When registering, attendees choose their free training classes. Click here for more details.
NETWORK WITH EXPERTS: The STAR Global Conference is one of the world's largest gatherings of simulation experts, it is also an opportunity to meet with CD-adapco management, software developers and support engineers.
About CD-adapco
CD-adapco (http://www.cd-adapco.com) is the world's largest privately held CFD focused CAE provider. Our core products are the technology-leading simulation packages, STAR-CCM+ and STAR-CD. The scope of our activities, however, extends well beyond CFD software development to encompass a wide range of CAE engineering services in fluid dynamics, heat transfer and structural engineering. Our ongoing mission is to "inspire innovation and reduce costs through the application of engineering simulation software and services."
A privately owned company, CD-adapco has maintained 17% organic year-on-year growth over the last 5 years. CD-adapco employs 800 talented individuals, working at 30 different offices across the globe.
Press Contact
Lauren Gautier, CD-adapco
lauren.gautier(at)cd-adapco(dot)com
+1 248-277-4600