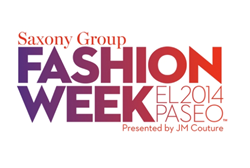 Palm Springs, CA (PRWEB) January 22, 2014
Palm Springs Life magazine is pleased to announce the ninth annual Fashion Week El Paseo™ 2014, featuring renowned and talented designers such as Project Runway's Michael Costello and New York designer Zang Toi. The Saxony Group has been named Title Sponsor of Fashion Week El Paseo 2014. Les Walgreen, president of Saxony Group stated: "Our mission is to create unparalleled projects in the Coachella Valley by taking a creative and progressive approach. As a leader in the Coachella Valley, Saxony is committed to providing premiere service and ground-breaking opportunities. Fashion Week El Paseo has offered us an unparalleled opportunity to embrace the community in accepting us as the Title Sponsor and one of our companies, JM Couture as the Presenting sponsor."
Held on El Paseo in Palm Desert, CA - the epicenter of luxury retail in the greater Palm Springs area - this consumer-and industry-driven event is widely acknowledged as the premier West Coast fashion event of the season. 2014 marks the official debut of JM Couture which headlines with a runway show and the grand opening of its flagship store. Founded by Jim Mullin, JM Couture is a subsidiary brand of the Saxony Group. JM Couture features a range of collections including Black Label, White Label, Wet, Privet and Jewelry/Accessories.
The seven-day fashion, beauty and lifestyle extravaganza kicks off under the "Big White Fashion Tent" on Sunday, March 16 with the Style and Beauty Bash where beauty pros will be lending their expertise to raise funds for local charities. That evening and the following days will be packed with an array of spectacular runway and trunk shows featuring the latest collections of top and emerging designers, as well as meet-and-greet cocktail receptions and after-parties. The nightly line up may be found below:
Sunday, March 16th – 5 p.m. Cocktail Reception, 6 p.m. Fashion Show
Le Chien presents "Famous Dogs of Hollywood"
Cocktails, a silent auction, music, and entertainment precede a canine fashion show featuring donors and their four-legged friends in fashions inspired by "Famous Dogs of Hollywood." A live auction completes this exciting evening. The show benefits Humane Society of the Desert.
Monday, March 17th – Cocktail Reception 7 p.m., Fashion Show 8 p.m.
FIDM/Fashion Institute of Design and Merchandising
Celebrate the work of nine FIDM graduates as they present their couture collections. Their work includes day and evening fashions. Presented by Victoria and John Hill. The show benefits Junior League Palm Springs Desert Communities.
Tuesday, March 18th – Cocktail Reception 6:30 p.m., Fashion Show 8 p.m.
El Paseo Runway Night presents Street Seen on El Paseo
The GirlFriend Factor, a local nonprofit organization that provides education grants to women, presents the Little Black Dress cocktail reception and invites you to attend in your little black dress to be a star of the evening. Followed by "Street Seen on El Paseo," a runway spectacular with city style, featuring 10 fine retailers showcasing looks for spring 2014. The show benefits GirlFriend Factor.
Wednesday, March 19th – Cocktail Reception 7 p.m., Fashion Show 8 p.m.
The Superstars of Project Runway
Michael Costello debuts his men's and women's collections for spring 2014, and shares the runway with five popular Project Runway designers showing their latest collections: Uli Herzner, Viktor Luna, Ari for Andy South, Irina Shabayeva, and Helen Castillo.
Thursday, March 20th – Cocktail Reception 7 p.m., Fashion Show 8p.m.
JM Couture Presents "Life is a Runway"
Our newest El Paseo designer, Jim Mullin, pumps up the runway at Fashion Week El Paseo with a showcase of his debut collection. Mullin uses every inch of the 100-foot runway to present a collection complete with glamour, bling, and excitement. A multi-talented designer, Mullin integrates music, fashion, and theater to dazzle Fashion Week.
Friday, March 21st – Cocktail Reception 7 p.m., Fashion Show 8 p.m.
The Best of Saks Fifth Avenue
The Best of Saks Fifth Avenue men's and women's wear for spring 2014 includes looks by Stella McCartney, Etro, Roberto Cavalli, Alexander McQueen, Dolce & Gabbana, Pucci, Ralph Lauren for women, and Etro and Dolce& Gabbana for men. The show benefits Women Leaders Forum and Variety The Children's Charity.
Saturday, March 22nd – Cocktail Reception 7 p.m., Fashion Show 8 p.m.
Designer of the Week - Zang Toi
This is the night to wear elegant white to celebrate the grand finale of the week. Designer of the Week, Zang Toi, of New York City, brings his timeless and uncompromising collection of exquisite fabrics and delicate silhouettes to the runway. An established name in the haute couture world, Toi's designs pamper women with elegance and glamour. The show benefits Fashion Group International Palm Springs.
The event draws a yearly attendance of over 13,000 leading fashion and entertainment personalities. Since its inception, Fashion Week El Paseo has supported over 100 local charities including Fashion Group International Inc., The Girlfriend Factor, Variety, The Children's Charity, Junior League of Palm Springs Desert Communities, Desert Outreach and the Humane Society of the Desert. For more information or to purchase tickets, please visit: http://www.fashionweekelpaseo.com/.
A Palm Springs Life event, Fashion Week El Paseo™ 2014 is presented by Saxony Group and JM Couture with sponsorship support from the City of Palm Desert, Toscana Country Club, Desert European Motorcars Indigo Auto Group, Trilogy at The Polo Club, El Paseo, The Gardens on El Paseo, The Village, El Paseo Jewelers, Wink Lash & Beauty Bar, Just Blow Drys, Omni Resorts Rancho Las Palmas, John & Victoria Hill, Donna MacMillan, Time Warner, Desert Radio Group, Strands Hair Color and Fresh Juice Bar.
About Palm Springs Life
Palm Springs Life magazine has represented the greater Palm Springs area for 55 years. Their award-winning monthly publication, recognized as "California's Prestige Magazine," is a perfect reflection of the special lifestyle of the desert resort communities. Palm Springs Life monthly editorial includes the social scene, upcoming events including major golf and tennis tournaments, luxury homes, fine dining, fashion, travel, the arts and profiles of celebrity and business leaders.