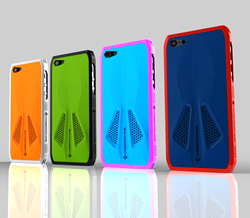 Protecting the technology that's essential to our lives.
Miami, FL (PRWEB) January 21, 2014
The latest innovation in the Sesto series is the Casemachine Sesto Sport Case for Apple iPhone 5, 5s. The Sesto Sport Case for Apple iPhone 5, 5s has a sleek machined, brushed and anodized aluminum bezel that fits on to the sides of the iPhone.
It is constructed of HDI TPU liners (Hexamethylene Diamine Thermoplastic Polyurethane Polymer) which make it both light weight and impact resistant. The TPU liners also add an extra amount of grip to your iPhone. This makes sure that it stays in your hands. The Sesto Sport case also comes with a detachable backplate made with Polycarbonate lining and a smooth UV coat on the inside to keep the back of your iPhone scratch-free without any impact on signal reception and/or data transfer speeds. The detachable backplate can be interchanged with other colorful backplates available for the Sesto Sport case accessories.
Casemachine takes the durability and protection of your iPhone very seriously and hence have added the impressive ribbed corners as was first seen in the Slimline composite cases (v2) to the Sesto Sport case along with its grip tight TPU liner.
Adding functionality to this innovativeness has made the Casemachine cases one of a kind and hence, irresistible. The race car concept is very much visible not only in the angular backplate but also in the sleep/awake button. Integration of the sports car element to the functionality of the case is seen in the sleep/awake button on the top of the case, which resembles the headlight of a Lamborghini. Apart from that, Casemachine is offering the Sesto Sport case for the Apple iPhone 5 and 5s in various colors like Red-Black, double Black, Black-Red, White-Silver, double White and Black-Silver. Apart from these, the easily interchangeable backplates are exclusively available in the following colors: Orange, Pink, White, Black and Silver.
As with all other composite cases offered by Casemachine, the Sesto Sport case for Apple iPhone 5, 5s also comes with a lifetime craftsmanship warranty. This shows the confidence of the designers and the engineers who have put in a lot of hard work to make sure that the Casemachine case users can rest assured about the quality of the products delivered by the company.