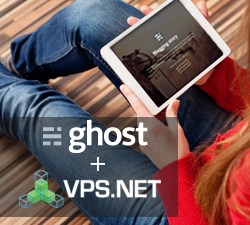 This sort of cutting-edge approach is one of our core values at VPS.NET.
Salt Lake City, Utah (PRWEB) January 21, 2014
From today, VPS.NET will offer instant set up of Ghost, the new game-changing blogging platform focused on ease of use and design. VPS.NET is one of the first companies to offer immediate access to Ghost—a name that's already haunting the world of bloggers and website builders, for all the right reasons.
Ghost was created to take the stress out of publishing content online. The platform's inventive box of tricks makes developing and populating a website quick and easy; making it a natural fit for VPS.NET's cloud server offering.
"Ghost is the start of a new wave of blogging innovation," said Rus Foster from VPS.NET. "The platform is unique because its roots stem from the minds of individuals with ground-breaking ideas, and it's the first blogging platform to come to fruition by crowd funding on Kickstarter. This sort of cutting-edge approach is one of our core values at VPS.NET; it's our business to deliver the latest solutions that appeal to today's marketplace."
Ghost's creator John O'Nolan once worked with WordPress; it was his years of experience in developing WordPress that gave him his idea for Ghost. His funding, meanwhile, came from the public. In 2012, John outlined his idea on the crowd-funding website Kickstarter. 48 hours after launch, the project had raised more than $100,000 and continued to gain substantial support over the duration of the campaign.
Ghost's hype revolves around its successful delivery on their strict goal to create a simple, yet elegant, publishing platform from inside and out.
"[Ghost] has one purpose, and only one purpose: enabling digital publishing for the masses," said O'Nolan. "Enabling people with more important ideas and things to say than I ever will to publish content online—quickly, easily, beautifully and efficiently."
Under the hood, Ghost's dashboard gives all the vital stats a blogger needs to know at a glance. It's customizable using a drag and drop widget system, so everything from new subscriber numbers to social media 'likes' are immediately visible at log in.
Boldly claiming, "The best writing experience on the Web," Ghost truly throws a bone to writers with its incredibly simple split screen markdown and preview feature. Publishers can write in one panel and see what their words will look like on the other; all at the same time.
Ghost also recognized blogging inspiration comes in more places than just between the chair and a keyboard, so the entire platform is fully responsive and makes your mobile device a publishing powerhouse.
Partnering Ghost with VPS.NET's reliability, flexibility and simplicity, people can create the perfect marriage for long-term blogging bliss. VPS.NET offers Ghost in three easy to distinguish plans revolving around blog traffic. In addition, VPS.NET's 24 hour support team will migrate a Ghost-backed blog for free. To learn more about VPS.NET Ghost Blogs, visit http://vps.net/cloud-sites/ghost-blogs.
ABOUT VPS.NET
VPS.NET operates one of the largest cloud hosting systems in the world. It offers affordable cloud servers to everyday users, while giving enterprise users the flexibility they need to adequately scale, and handle their growing IT demands. VPS.NET is a division of the UK2 Group, which provides domain registration and Web hosting services to thousands of customers globally through its family of hosting brands; UK2.net, Midphase.com, WestHost.com, 100TB.com, ANHosting.com, Resell.biz, and VI.net. VPS.NET is committed to providing secure and reliable products and services underpinned with excellent support. For more information about VPS.NET, visit http://www.vps.net.