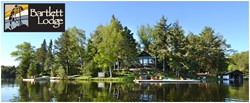 It's a good-looking website and very easy to maneuver. Site visitors can quickly access all the information that they need.
Algonquin Park, Ontario (PRWEB) January 29, 2014
Marilyn and Kim Smith, the owners of Bartlett Lodge (http://www.bartlettlodge.com), are pleased to announce the launch of a new website for their truly unique Algonquin Park resort. Bartlett Lodge is an award-winning eco-friendly modified American plan cottage resort that is scenically located on an island on Cache Lake within the boundaries of Algonquin Provincial Park. This year, Bartlett Lodge, Algonquin Park's most historic lodge, will celebrate its 97th anniversary in business.
The new Bartlett Lodge website, which went live this week, replaces the old site with a fresh, new streamlined look and a more user-friendly functionality. Built by the First Page SEO, the new site is designed to be attractive, easy to use and to place well with the search engines. Including the homepage, the site has seventeen pages of useful information about the lodge and Algonquin Provincial Park, including Rates & Reservations, Dining, Algonquin Park, Weddings, Reunions, Meetings, Packages, Environmental Commitment, General Information, Cabin Descriptions, Studios & Guest Lounge, Platform Tents, Resort Layout, Guest Comments, Guest News, Site Map, and Contact page. Site visitors can readily access all the information they need to know about the lodge and can even book an Algonquin Park resort vacation online.
"We are quite pleased with the way the new website has turned out. The extensive use of beautiful photographic images of the lodge property, its cottages and surrounding area, allows site visitors to get a true impression of what Bartlett Lodge actually looks like and a greater understanding of what our lodge is all about. The site's striking colour photography which is complemented by a background of soft greens, combined with its simple, uncluttered look, perfectly reflects the charm and casual elegance of our Algonquin Park lodge. It's a good-looking website and very easy to maneuver. Site visitors can quickly access all the information that they need. I believe it represents our resort well and will be a very effective communication and marketing tool for us going forward," explains Kim Smith.
About Bartlett Lodge:
Located on an island within the borders of world renowned Algonquin Provincial Park, Bartlett Lodge on beautiful Cache Lake offers a truly unique vacation experience with stylishly understated lakefront cottage rentals, luxury canopy tent accommodations and exceptional fine dining; all in a pristine wilderness setting. Acclaimed as an eco-friendly for its commitment to preserving the environment through sustainable practises, Bartlett Lodge is ideal for romantic couples, adventure tourists, family vacations, small group functions and weddings. For more information or to book your fabulous Algonquin Park vacation, visit http://www.bartlettlodge.com or call toll free 1-866-614-5355.
Contact Information:
Marilyn & Kim Smith
Bartlett Lodge
132 Reynolds Street
Oakville ON L6J 3K7
Telephone: (905) 338-8908
Toll free: 1-866-614-5355