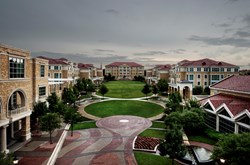 'We launched the contest because, ultimately, we want to hear from students about what life is like in the residence halls we design.' –David Short, KSQ principal
Dallas, TX (PRWEB) January 22, 2014
A humorous student video featuring amenities of life on campus recently earned Texas Christian University sophomore Abel Perez-Arita $800 in the KSQ Architects' "What Makes Your Res Hall Awesome?" video contest.
Scored with playful piano lounge-style music, the winning video highlights life in Carter Hall, a sophomore residence hall located on Campus Commons at TCU. Perez-Arita filmed his friends watching football, doing laundry, and studying in the hall, along with the features he liked about his room–including nice bathrooms, plenty of storage, WiFi and cable.
Perez-Arita, a first generation college student, film major and Fort Worth, Texas, native, entered the contest in the hopes of winning prize money to purchase a new 85 mm 1.8g camera lens.
"As a film major, it became increasingly urgent that I shoot the contest film," he said. "My main competition was a girl who lived one floor beneath me in Carter Hall. I had seen her filming at almost every event and she always asked me, 'Where's your camera, huh?'
"The first time I toured the TCU campus as a senior in high school, I was stunned by the remarkable space in the Commons, surrounded by a fortress of students in dorms. Little did I know that two years later, I would currently be living in one of those rooms in Carter Hall!"
KSQ Architects specializes in the design of collegiate student life spaces, including residence halls, dining halls and student unions. The firm has provided architectural services to TCU for 17 years, including spaces for more than 3,000 student beds. TCU currently requires that 65 percent of its students live on campus.
"We launched the contest because, ultimately, we want to hear from students about what life is like in the residence halls we design," said David Short, a principal with the firm. "Their input is extremely valuable and helps to inform our student life design work–and this was a fun way to receive that input."
ABOUT KSQ ARCHITECTS
With offices in offices in Colorado, New York, Oklahoma, and Texas, KSQ Architects is a full-service architectural firm providing programming, planning, architectural and interior design services. The firm specializes in collegiate life, K-12 and multi-family housing facilities throughout the United States. A hands-on, environmentally sensitive approach is fundamental to each KSQ project, and ensures a rare level of personalized attention and sustainable methodology. KSQ has completed projects nationwide on more than 50 campuses totaling $1 billion in construction. For more information, contact Monica Roberts, Communications Manager, 918-592-0622 or mroberts(at)ksqarchitects(dot)com.