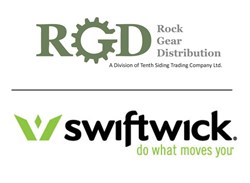 We are very much focused on selling products based on their technical and performance characteristics and Swiftwick certainly fits our standard.
Brentwood, TN (PRWEB) January 21, 2014
Swiftwick, a leading U.S. producer of athletic compression socks, announces today a partnership with Rock Gear Distribution of Blairmore, Alberta, the company's first Canadian distributor.
Rock Gear Distribution (RGD) will provide retailers throughout Canada with full support and stocking for Swiftwick PURSUIT, ASPIRE and Cut-Resistant Hockey Sock lines.
"Our top goal in 2014 is to take our American-made, high quality performance socks to the international stage," said Mark A. Cleveland, CEO and co-founder of Swiftwick. "We have to go beyond the cult status Swiftwick has achieved. Partnering with Rock Gear Distribution, with their impressive list of Canadian retailers, makes Swiftwick easier to do business with."
Rock Gear Distribution serves hundreds of dealers across Canada warehousing a diverse mix of outdoor, running, cycling, sporting goods and travel retailers. RGD President Ian Lowe-Wylde says the Swiftwick brand is a natural fit for their dealers.
"We are very much focused on selling products based on their technical and performance characteristics and Swiftwick certainly fits our standard," said Lowe-Wylde. "There is a great deal of synergy between Swiftwick and the other brands we distribute, which makes this an ideal partnership. Joining with Swiftwick is an important step in the evolution of RGD as we continue to develop a product mix that fully caters to the needs of active people."
Swiftwick has been preparing for international expansion by working with the TNTrade program, a statewide initiative intended to make Tennessee No. 1 in the Southeast for high quality jobs by boosting exports from small and medium-sized businesses located in the state.
"Swiftwick is a great example of a company that's taken initiative to explore alternative markets while leveraging the resources newly available from the Tennessee Department of Economic and Community Development," ECD Commissioner Bill Hagerty said. "As a business person, I know tackling a new market can consume scarce management time and has the potential to dilute ongoing efforts in the base business. Our goal with the TNTrade program is to minimize the distractions and maximize the effectiveness of Tennessee companies as they explore these meaningful new opportunities. Swiftwick proves you can both be successful domestically and internationally, and I congratulate them on this exciting accomplishment."
The deal with RGD comes after a year of substantial growth for Swiftwick. In 2013, Swiftwick brought in record-breaking revenue with 33 percent overall growth.
"We worked really hard on North American Free Trade Agreement (NAFTA) compliance issues to prepare for the Canadian consumer," said Cleveland. "With RGD stocking Swiftwick to serve Canada's athletes, we plan to continue to innovate and bring new products to market that will last longer, perform better and are 100 percent made in the United States, from source fiber to finished product."
To learn more about Rock Gear Distribution visit http://www.rockgeardistribution.com/.
About Swiftwick
Founded in 2008, Swiftwick is headquartered in Brentwood, Tenn. The company is a performance sock manufacturer that proudly employs an American workforce in high-quality textile manufacturing. Swiftwick is an innovator in designing and producing superior socks. The company has a culture focused on manufacturing through environmentally friendly means, social responsibility and leading customer service. Learn more at http://www.swiftwick.com.