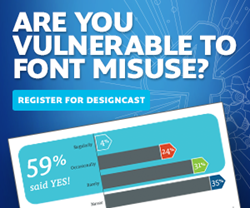 Portland, Ore. (PRWEB) January 21, 2014
Extensis® is hosting free Webcast with HOW Design today exploring results from a new global font usage survey. Survey results reveal businesses are at risk with pervasive font misuse.
Font expert James Kidwell of Extensis will delve into the survey findings, with an analysis of how the risk of font misuse is introduced and what can be done to avoid the issue.
This presentation includes:

An exploration of the evolving perception of font licensing by creative individuals, the past, present and future.
How the expanding pool of designers who desire quality typography affects this perception.
How designers can keep themselves and their employers safe from font use missteps.
Webcast Details
Date: Tuesday, January 21, 2014
Time: 11:00 a.m. Pacific | 2:00 p.m. Eastern
Cost: Free
To Register: Click here.
A recording of the webcast will be made available to those who register, but cannot attend.
About the Survey
Extensis recently surveyed a broad selection of graphic designers and creative professionals. With more than 2,250 respondents from around the world, Extensis uncovered the following top 5 findings:
More than 50% of designers have had their toe in the font piracy waters¬—59% of designers have traded fonts with others and 50% of designers have brought outside fonts into the office
One third of designers "locate" copies of fonts for comping and mockups without the appropriate licensing
More than 80% of designers don't regularly read font licenses, and 78% of designers who do read find them confusing
More than 60% of designers don't have a clear understanding of what they can do with the fonts they license
57% of designers are not clear on their organization's font licensing policies
Extensis' report and Webcast outlines what businesses can do to solve these problems, including efficient ways to inventory licensed fonts and using a font management solution.
Read the full report here.
About Extensis
Celebrating 20 years in business, Extensis® is a leading developer of software and services for creative professionals and workgroups. Their solutions streamline workflows, securely manage digital assets and fonts, and control corporate typographic branding. Used by hundreds of Fortune 5000 companies, Extensis' award-winning server, desktop, and web service products include: Portfolio Server® for digital asset management, Universal Type Server® for server-based font management, Suitcase Fusion™ for single-user font management, and the WebINK® web font rental service. Founded in 1993, Extensis is based in Portland, Oregon, and the United Kingdom. For additional information, visit http://www.extensis.com.
© Celartem, Inc. d.b.a. Extensis All rights reserved. EXTENSIS, WebINK, Suitcase Fusion, Portfolio Server, Portfolio Flow and Universal Type Server are trademarks or registered trademarks of Extensis in the United States of America, Canada, the European Union and/or other countries. This list of trademarks is not exhaustive. Other trademarks, registered trademarks, product names, company names, brands and service names mentioned herein are property of Extensis or other respective owners.