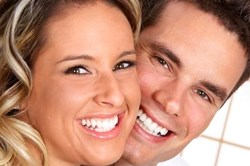 Four out of five men with disease also suffer from erectile dysfunction.
Houston, TX (PRWEB) January 22, 2014
There are so many ways that oral hygiene affects one's life, but to think that it could make or break someone's sex life? According to British studies, published September 29, 2011, erectile dysfunction and gum disease are linked. Midtown Dentistry teaches dental sex education during their appointments to ensure that the patient is aware of the effects their oral health can have on their sexual health and overall well-being.
Dr. Penchas teaches his patients about the importance of oral hygiene and the risks they are taking by not taking proper care of their mouths. He wants to make sure they understand that the oral hygiene doesn't just affect the heart but many other aspects of person's life as well. It could cause problems as serious as erectile dysfunction or more common, treatable problems that can occur if the mouth is not taken care of. The patient could experience problems like, gums bleeding while brushing, bad breath or odor that will turn people away and the possible loss of teeth.
It's amazing how the body is linked in such a way that if a person does not take care of their teeth and mouth, they could end up experiencing a less than desirable sex life. Dr. Nigle Carter conducted a study in the UK that four of five men with gum disease also suffer from erectile dysfunction. For these men the ED also results in low self-esteem, low self-confidence and an overall poor personal moral. Midtown Dentistry takes every opportunity to teach you the importance of how your oral health and how it can affect your overall health.
The American Academy of Periodontology's, retrieved January 22, 2014, research shows that periodontal disease is found more often in men instead of women. This could be for a number of reasons including the idea that men typically do not visit the dentist for routine cleanings and checkups as well as men have worse indicators of periodontal health.
Dr. Penchas is not promising that scheduling routine cleanings and check-ups will increase someone's sex life but it will help decrease the likelihood of gum disease and certain health conditions caused by plaque buildup and bacteria found in the mouth.