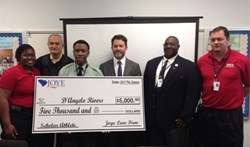 "[W]e were blown away by the quality of this year's submissions," said Ken Harrell, managing partner of the Joye Law Firm. "It made us feel really confident about the future of our community."
North Charleston, SC (PRWEB) January 22, 2014
D'Angelo Rivers, a senior at Military Magnet Academy, was selected as the winner of a $5,000 college scholarship presented by Joye Law Firm.
Rivers, a captain of the varsity football team and member of the school's baseball and basketball teams, maintains a 3.6 GPA and is active in the JROTC and his church.
During the 2013 high school football season, Joye Law Firm teamed with MyNetwork TV's Bojangles Thursday Night Lights show, to highlight student athletes from across the Lowcountry. Each student athlete was nominated by their high school principle and became eligible to compete for the $5,000 Scholar Athlete Award furnished by Joye Law Firm.
"Frankly, we were blown away by the quality of this year's submissions," said Ken Harrell, managing partner of the Joye Law Firm and member of the selection committee. "It made us feel really confident about the future of our community."
Rivers was selected for his scholastic aptitude, leadership skills, athletic achievements and involvement in extracurricular activities.
In addition to this year's Scholar Athlete Award, Joye Law Firm awards six $2,000 scholarships to college-bound seniors in South Carolina each spring. Joye has awarded over $100,000 in college scholarships through the firm's annual scholarship program.
"We started the scholarship program eight years ago to recognize and reward the bright, young minds in our community," added Harrell. "Many of our scholarship recipients have gone on to do great things, and we are proud to be a part of their success."
This year's Joye scholarship program will kick off in February. Interested students should visit http://www.JoyeInTheCommunity.com for information about the program and application instructions.
###
About Joye Law Firm
Joye Law Firm is headquartered in North Charleston, South Carolina with staffed satellite offices in Myrtle Beach and Clinton. Founded in 1968, Joye assists South Carolinians with a wide range of injury and disability law, including automobile accident, workers compensation and Social Security disability claims. The firm is also active in the community through its "Joye In The Community" program, which partners with various civic and charitable organizations throughout the year.