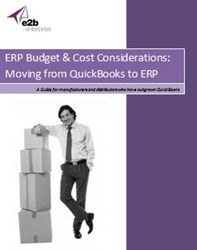 Chardon, Ohio (PRWEB) January 21, 2014
e2b enterprise, providers of ERP, CRM, and other business solutions for the manufacturing, distribution, and service industries, today announced the release of a new white paper titled, "ERP Budget & Cost Considerations: Moving from QuickBooks to ERP." This paper serves as a guide for organizations that have outgrown QuickBooks and are ready to move to an ERP system that is better equipped to handle their growing financial requirements.
"Many companies start out using introductory systems like QuickBooks," said James Mallory, author of the white paper. "QuickBooks is a great solution for businesses that are just getting started. Over time, those companies grow and begin to experience some of the common hassles and expenses of using a system that can no longer handle ever growing and changing requirements, processes, and accounting needs of a larger business."
The white paper explains that an investment in the right ERP system can provide growing companies with the additional functionality and visibility they need to improve their processes and quickly make strategic business decisions. The white paper speaks to the common concerns of many companies in this situation, the additional cost of an ERP system and how to decide if it is worth it.
"As with any software purchase, there will be an investment required to move from QuickBooks to a more robust ERP system," said Mallory, "but the ROI and new level of insight and control over your finances is well worth it."
The white paper answers common questions asked by companies moving from QuickBooks to ERP and discusses topics including:
•Accounting and ERP system cost comparison.
•Entry- level accounting systems.
•Entry-Level ERP systems.
•Mid-Market ERP systems.
•Enterprise ERP systems.
•ERP budgeting tips.
•Access to our ERP Evaluation Template.
•Access to an ERP Return on Investment Calculator:
The white paper is available here for free download.
About e2b teknologies
e2b teknologies provides cloud-based business software applications and business services to progressive businesses worldwide. e2b anytime apps (e2banytime.com) is the publisher of Anytime Supply Chain, Anytime Commerce, Anytime Collect, and related Anytime brand products. e2b enterprise (e2benterprise.com) develops custom cloud-based business applications and resells leading ERP accounting software, CRM, HRMS, and other enterprise business software applications from Sage Software, Epicor, SugarCRM, and other publishers.