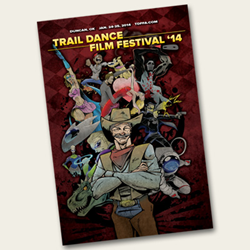 "One of the Top 25 Film Festivals Worth the Fee and One of the Top 20 Coolest Film Festivals." - MovieMaker Magazine
Duncan, OK (PRWEB) January 06, 2015
For two straight days, Duncan will open its heart to film makers from around the world as the 9th Annual Trail Dance Film Festival kicks off.
Trail Dance Film Festival, named one of the Top Twenty Coolest film festivals by MovieMaker Magazine in 2012, introduces up and coming film makers from around the globe to Oklahoma's emergent film industry and provides a welcoming format to showcase films amidst a beautiful western landscape where the history of the legendary Chisholm Trail comes alive. The two day festival includes independently produced films from all genres and culminates with a grand awards gala, free and open to the public, where custom sculpted Golden Drover Awards are presented to the winning film makers and live entertainment brings the festival to a close.
Trail Dance attendees will be able to choose from a collection of over 100 films, many of which will have actors, directors, and producers on hand to answer questions following the screenings. Films range from 5 minutes to 2 hours and have been produced on budgets ranging from $1 to $5.5 million. Films will be all different genres; Documentary, Family, Comedy, Drama, Music Video, Horror, Thriller, and more. It is guaranteed there is a film for everyone with ratings from G to R. While the films are not Motion Picture Association of America (MPAA) rated, the festival judging panel created a ratings system based on MPAA standards giving consideration to the local viewing audience. Festival goers should exercise discretion when attending a film.
Events and screenings will be held at the Jack A. Maurer Convention Center (Simmons Center, 800 Chisholm Trail Parkway), The Palace Theatre(926 W Main) and the Chisholm Trail Heritage Center(1000 Chisholm Trail Parkway). Festivities will include vendors, live entertainment, panels featuring film professionals, and much more. Tickets and passes, block, day and weekend, are available at Trail Dance venues and online at http://www.traildancefilmfestival.com.
A Special Kick Off reception at The Stephens County Historical Museum on Thursday, January 22 requires purchasing a Weekend pass or Invitation. For further information, please contact Anthony at anthony(at)tdff(dot)com or the Duncan Convention and Visitors Bureau at 1-800-782-7167.