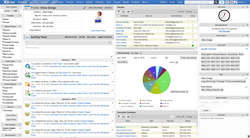 With its improved user interface and added features, X2CRM 3.7 allows sales managers and marketers even increase business efficiency and effectiveness.
Santa Cruz, CA (PRWEB) January 22, 2014
X2CRM today announced the general availability of X2CRM version 3.7, an open source sales force, marketing automation, and service application for small businesses in both cloud and on-premise editions.
Key Features of X2CRM:
Web 2.0 Speed Optimized User Interface
Web Activity Tracker, now with Google Analytics Integration
Web and Facebook Lead Capture Form Designer
Automatic Web Form Embedding Code
HTML Content Targeting
Newsletter Generator
Lead Nurturing, Scoring and Intelligent Routing
Contact Activity Management
Time Tracking
Sales Process Workflow Engine
Email Correspondence
Product and Sales Quotes
Customer Service Management
User Profile Home Pages with Modular Widgets
Universal Activity and Event Streams
Custom User Role Designer
Field Security, Roles and Sales Teams
Visual No Code Form Editor for Administrators
Both Cloud and On-Premise Optimized Options
Mobile Access Integration with X2Touch
Large Scale Marketing Campaign Management
Marketing Campaign Visual Progress Meter
Social Intranet Capability for Sales Teams
Shared Calendar and Event Information
Extreme Customization and Marketing Automation with X2Flow
X2CRM 3.7 Updates:
Improved Appearance - Flattened UI and Updated Module Widgets
Redesigned User Profile Page
Case Timer - Time Tracking System
Marketing Campaign Meter - Real-Time Progress Visualization
Enhanced UI - User Profile Page and Interface Update
X2CRM version 3.7 boasts an overhauled appearance. The user interface features a more immediate, flattened appearance with a matte color scheme and economical visualization. "It's modern, it's minimal, it's direct." The X2CRM dashboard has been updated at well. Version 3.7 now includes an all-in-one user profile page which contains widgets for all the functional modules in X2CRM in a single location, including Marketing Campaigns, Contacts, Sales Summaries, Company Documents, and others. The new interface allows users to quickly view customer accounts, user activity feed, event history charts, and much more, all within interactive, scrollable widgets which can be customized and repositioned.
Case Timer: Track Time Spent on Service Cases
X2CRM's case timing widget is also new with the version 3.7 update. This feature allows a CRM user to keep a record of all time spent on service for a customer. For example, time spent in the field on a service job, or a support phone call. Users can edit the date and times of the service period, enter a description of the services performed, and view the complete time record for the client. They can also log calls with their clients, add comments to their record, or create actions associated with the client for their sales team to complete (e.g. "follow up call on initial quote") all from the same publisher widget. X2Engine said they hoped this feature would aid their customers in billing, record keeping, and increasing time efficiency.
Real-Time Progress Meter: Visualize The Completion of Your Marketing Campaigns
X2CRM's sales force and marketing automation CRM application has always been able to produce targeted email marketing campaigns. However, the update to version 3.7 sees X2 offer further enhancements to the marketing module and campaign manager. The batch emailing method now presents a visual progress bar, displaying how many emails have been sent and how many have yet to be sent. X2CRM now also offers more control over these campaigns - marketers can temporarily pause the sending of emails during a campaign and resume at any time. Users can view real-time progress on the auto-refreshing contact list data grid, and in the event history chart, giving X2CRM customers further visual insight into their marketing campaigns.
About X2CRM
X2CRM of Santa Cruz, California, was founded in 2011 by John Roberts, a SugarCRM co-founder and Customer Relationship Management software entrepreneur. The company provides sales & marketing software and cloud hosting services for X2CRM, a next generation open source, sales force and marketing automation customer relationship management system for small businesses. X2CRM has been installed on over 8,000 public and private cloud servers across 150+ countries.
X2CRM is headquartered in beautiful Santa Cruz, California, a short 40 minute drive from San Francisco International Airport.
For a live demonstration, a detailed feature list, screenshot and video library please visit: http://www.x2crm.com.
X2CRM takes advantage of the latest open source software including Apache, PHP, MySQL and Linux (LAMP).
Additional Resources:
Follow @X2Engine on Twitter
Test drive a free trial: http://www.x2engine.com/live-demo-server/.
BitNami X2CRM Stack: http://bitnami.org/stacks/x2crm