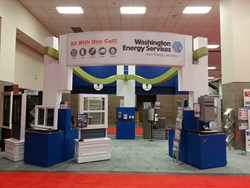 We're excited to see and show all of the new things for 2014. - Carol
Seattle, WA (PRWEB) January 22, 2014
Home Shows are a fun way for homeowners to explore the next and best products for energy efficient home improvement, plus upgrades for home beauty and comfort. There are several shows in Western Washington during the first quarter of the year, including ones in Seattle, Tacoma, Everett, Puyallup, Camano Island and smaller local ones. These shows typically cover products and services for both home interiors and exteriors, plus landscaping, outbuildings, cabins, remodeling and an assortment of home related products. In the area of energy efficient home upgrades, some of the new and expected to be hot items this year are:
1. A tank water heater with a lifetime warranty. Electric tank water heaters last 8-10 years and are famous for big ugly water leaks - until now. HTP has created a new tank which is made of stainless steel and has a limited lifetime warranty. Yes, that is for the buyers whole life. There is one consumable piece that must be replaced every decade which costs about $300 installed, vs the cost of a new tank at that interval. The stainless steel tank resists any corrosion and has no anode rod to corrode inside. With maintenance, the owner can expect peace of mind for many years. In addition, this tank is engineered for faster response time. So it refills with hot water faster than a regular electric tank will. This is a great option for electric tank customers. It comes in 40 and 50 gallon sizes and the stainless look is attractive.
2. Home energy audits (and auditors). With the increasing popularity of using an energy audit to plan your energy efficient home upgrades the right way, auditors have become a popular feature at the shows. Washington Energy will be bringing certified BPI home energy auditors to meet the public and answer questions at the Tacoma, Seattle and Everett home shows.
3. Ductless heat pumps continue to be popular in 2014. Ductless heating for electrically heated homes or as an addition to ducted heating has exploded in Western Washington over the past 2 years. At each show, visitors will find several companies with heat pumps on display including those by Daikin, the world leader in heating, and Mitsubishi, a top brand in ductless heating, plus others.
4. Tankless water heaters are also an area where technology has created greater home comfort. Energy efficient tankless water heaters are now being used for more than just heating water, they are running radiant heating systems for the whole house. Similar to the way a boiler works, some tankless water heaters are made to be able to interface with radiant heating systems. Radiant heating, most often seen as floor heating, provides even heat throughout the house and creates a wonderful feel under foot when you step onto warm tile. This type of heating is surprisingly energy efficient and there are rebates from several local utilities for the equipment. Find out more at your local home show.
Washington Energy Services, a leading home improvement contractor in Washington State, exhibits at several major home shows in the Jan-March timeframe including the Tacoma Home Show, Seattle Home Show, Port Susan Camano Island, and our Energy Audit team will be at the Everett Home Show and Phinney Neighborhood Home Fair. All of the products mentioned above will be available.
After the home shows end, the products can be found at the Washington Energy Services showroom, 3909 196th St SW, Lynnwood WA 98036 Monday through Friday 8am-5pm.