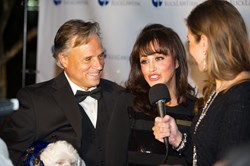 You are your environment; this environment reflects the excellence of the firm.
Tampa, Fl (PRWEB) January 22, 2014
The recent build-out and design of a Tampa Bay law firm at 3812 Gunn Highway is a must see and is welcome to the public!
Blick Law Firm's main location in Carrollwood goes green with energy efficient roofing, flooring, and lighting. Additionally, this spectacular art and design is a vision with inspirations from around the globe including: Italy, New York, Miami and Tampa Bay!
Owner and senior attorney, Michael C. Blickensderfer worked tirelessly with wife and project manager, Viviane Blickensderfer. The firm started the blue prints with C.J. Carvalho Construction on the renovation and build-out process in October 2012; and moved into the building exactly one year later in October 2013.
Within one year's time, the twenty nine year old building was completely gutted and remodeled to create the new and improved home for Blick Law Firm. Viviane worked with architect Peter Alfonso, to add eye-catching and modern elements to the old Carrollwood area.
Some very important and unique eco friendly additions to the building include the following:

Tinted windows reduce sun exposure in an all glass building. The heat and sun exposure is reduced by 56% making it very energy efficient.
New roof installation includes materials of: elastomeric, metal roofing, asphalt, concrete, foam roofing and roof repair. Its heat reflective coatings manufactured by Energy Seal known as a 'cool-roof' maintains lower temperatures consistently and greatly reduced B2U consumption. The heat consistently remains at a temperature of 88 degrees, where it was originally exceeding heat of 155 degrees.
Blinds installed preserve inside temperature, lessening energy demands and repealing heat.
5 star energy efficient HVAC units installed reduce the usage of energy to the building and reduce noise, operating quietly.
Installation of marble on floors and travertine on tile walls reduce and maintain the coolness in the building during hot Florida summer months.
Installation of tile throughout the building and the use of interior glass as partitions instead of material, keeps building hypoallergenic to prevent and help anyone suffering from allergies.
The inspiration speaks of the unique firm which makes up Blick Law Firm. The Blickensderfer family and family-based law firm used their diverse background, family history and spirituality to create such a marvelous venue for their clients. It was also inspired to cultivate another level of professionalism in the community.
"You are your environment; this environment reflects the excellence of the firm," said Viviane.
Viviane achieves her ambition to alleviate moods of urgency and tension that correlate with legal proceedings, by accommodating clients and employees with an elegant and tranquil atmosphere. The legal industry, known for its various stress levels, were taken into consideration in the entire process. With Tampa Bay's Oxford Exchange as one of her many inspirations, Viviane has an incredible gift for interior design and vigilantly organized every detail of Blick Law Firm's new office. Viviane is confident that the new detail- oriented and distinguished environment at Blick Law Firm will reflect its excellence in administering exceptional legal counsel.
Upon entering Blick Law Firm, clients will immediately notice the relaxing atmosphere and exquisite furnishings that adorn the firm's new office. The beautiful marble flooring aids in energy efficiency, and accommodates clients that may have allergies. The glass doors and windows express an open and inviting quality that is exhilarating and comforting. Blick Law Firm is garnished with beautiful chandlers, artwork, and floral arrangements that complement the sounds of running water and classical music.
Blick Law Firm's new office now provides immigration law services, and re-launches the title division, Infinity Abstract and Title. The firm's expansion of services meets a wide array of legal areas including: personal injury, title services, foreclosure defense, chapter 7 bankruptcy, criminal law, and immigration law.
For additional information on Blick Law Firm's architectural design elements, please feel free to contact Dana Blickensderfer, Director of Public Relations at 888-973-2776 or email dana@blicklawfirm.com.
About Blick Law firm
Blick Law Firm is family owned and grounded in Christian values. Specializing in personal injury, real estate, criminal, bankruptcy, and immigration law; Blick Law Firm provides exceptional legal representation in the Tampa Bay area as well as the entire state of Florida. With over 25 years' legal experience in Florida, New York, and New Jersey; Owner and Attorney Michael C. Blickensderfer holds exceptional knowledge and proficiency in aiding his clients with legal service. Visit http://www.blicklawfirm.com for more information.