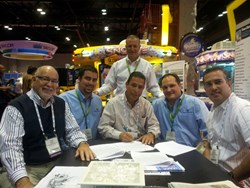 For Surf & Fun the most important requirement is water quality, the second is cost savings. - Mayor Isidro Negron-Irizarry of San German, Puerto Rico
Coventry, RI (PRWEB) January 22, 2014
Neptune-Benson, a leading manufacturer of commercial pool filtration systems, ETS-UV disinfection systems, and Lawson Aquatics components, is proud to be chosen to supply their award-winning Defender® aquatic filtration system to the Surf & Fun Waterpark in San Germán on the island of Puerto Rico.
For any installation of this size, water savings is a huge consideration; with 1,085,985 gallons of water for the attractions, it is crucial to use a water saving device. The Defender® Regenerative Media Filter eliminates over 90% of the backwash water associated with sand filter operation. The dramatic reduction of backwash waste directly translates to savings in chemicals and fuel. If San Germán had chosen sand filters, approximately twenty (20) would be needed to replace eight (8) Defender filters.
Surf & Fun Waterpark is tentatively scheduled to open in summer 2014. The park is located at the main entrance of the town of San Germán. The pool consists of an 18,000 sq ft wave pool, 1,200 ft long lazy river, bumper boats and a surf machine. The park will have outdoor aquatics attractions all supported by eight Neptune-Benson Defenders. Neptune-Benson Defender® was chosen for water quality as well as sustainability. By using Defender® there is 90% less water and waste, 30% less fuel and chemicals used, 75% smaller footprint as well as 50% reduction in electricity.
"For Surf & Fun the most important requirement is water quality the second is cost savings," says Mayor Isidro NegrÓn- Irizarry of San Germán. "The Defender® regenerative media filter was chosen because it consistently produces the cleanest and safest water available and saves a considerable amount of water for the region".
The Defender removes particles down to 1 micron or less.
About Neptune-Benson
Since 1956, Neptune-Benson has been a leading manufacturer of filtration systems for aquatic centers, waterparks and aquatic life support. Featuring the award-winning Defender™ Regenerative Media Filter, Neptune-Benson also offers steel & fiberglass sand ¬filter systems; the AEGIS anti-entrapment shield; fiberglass movable bulkheads; Dominion butterfly valves; Guardian strainers along with the complete family of Lawson Aquatics brand products. See: http://www.neptunebenson.com Through the company's subsidiary, ETS (Engineered Treatment Systems), these products are complimented by a complete line of industry-leading UV treatment solutions, making Neptune-Benson one of the world's leading providers of water management technologies for the commercial aquatics, municipal and industrial markets.