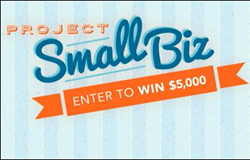 'We are delighted to start off 2014 by providing a financial boost to a small business like Creative Flooring.' - Jared Feldman, Fora Financial Founder & CEO
New York, NY (PRWEB) January 21, 2014
Fora Financial announces that Creative Flooring, based in Las Vegas, NV, is the winner of its Project Small Biz Facebook contest by receiving the most online votes. Creative Flooring is a family-owned and operated small business specializing in installing tile floors, custom showers, tub surrounds, countertops, black-splashes and fireplaces.
"We are delighted to start off 2014 by providing a financial boost to a small business like Creative Flooring," said Fora Financial CEO & Founder, Jared Feldman. "Their story is relatable to many small business owners, and they deserved a helping hand, which we were glad to give. The contest was also beneficial to us because we were able to hear from small businesses in many industries, telling us about their funding needs for 2014. The contest was truly a win-win for everyone."
Christina and Scott Null are the owners of Creative Flooring, and said the prize means a lot to them because it opens new doors with new possibilities. Christina Null said, "We plan to purchase much-needed tools and will use money to fund some commercial jobs we have bid on and hope to win. Winning this prize is going to have a huge impact on our business."
Project Small Biz had 44 contest entries over a two-week period from a variety of industries, including online retailers, bakeries, restaurants, spas, construction companies and technology businesses. A total of about 5,000 total votes were garnered for favorite submissions.
For more information about Fora Financial, please visit http://www.forafinancial.com.
About Fora Financial
Fora Financial offers flexible, working capital solutions to small businesses in need of financing to sustain or grow their enterprise. The Manhattan-based company places a high value on trust and transparency and provides businesses with quick, customized financial solutions utilizing its state-of-the-art technology platforms. Founded in June 2008, Fora Financial has provided more than $160 million to over 4,000 customers.