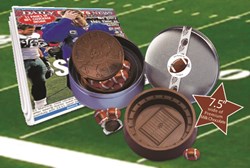 Chocolate, enjoyed by everyone, is reaching an all-time high in demand-per a recent Mintel survey.
Fairfield, NJ (PRWEB) January 21, 2014
Just in time for the Big Game party, chocolate creativity comes in the form of a Replica Chocolate Football Stadium™ Party Package. Designed by Better World Brands®, each piece is manufactured and shipped only minutes away from the actual event. This colossal coliseum includes a chocolate sports lid, individually foil wrapped chocolate footballs and contains over one pound of Cargill's Premium American Milk Chocolate. Shaped like a real Football stadium and field, it comes packed in a tin with a football ribbon. The stadium could easily feed 16 hungry fans.
A creation of Better World Brands, each Chocolate Stadium Package is a perfect gift for any Fantasy Football Food Fan. The stadium is hand molded and packed into two versions. The Big Game Party Package™ includes a bonus gift bag of Green & Black's Organic® chocolates and is shipped before the game. The Super Fan Highlight Package™, shipped after the game, includes a free copy of The NY Daily News® with the post-game coverage. Both packages come shipped with your personal message completed at checkout.
Chocolate, enjoyed by everyone, is reaching an all-time high in demand. Per a recent Mintel survey1, the chocolate confectionery market had fared seemingly well in a lagging economy, growing 19% from 2007 to 2012. This growth can be attributed to consumers' demand for affordable luxuries or indulgence, as well as the foodie culture that has increased interest in premium, high-quality and artesian varieties of chocolate.1
The concept of chocolate sports stadiums came to the founder of Better World Brands, David Little. As a retired CPA, Little founded the company in 2012 and moved on from keeping books to pursuing creativity with cocoa beans. The company also offers chocolate replica stadiums in for fans of baseball, soccer and basketball.
Need to stay perked up during the game? As a National Distributor of Keurig® Brewing Systems, Better World Brands has also created Office and Residential Football Pool Party Packages that include Keurig brewers®, K-cups and baked goods.
The Chocolate Replica Stadium Packages can satisfy any football fan's appetite while giving them a taste of victory, no matter what the outcome of the big game.
1 see: http://store.mintel.com/chocolate-confectionery-us-april-2013