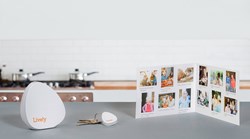 Lively's mission is to empower seniors to live independently, without making cost a limiting factor.
San Francisco, CA (PRWEB) January 21, 2014
PEP Housing (http://www.pephousing.org), a Northern California non-profit leader that provides low-cost housing for seniors, has announced a trial program with Lively (http://www.mylively.com) that will help its residents remain living independently at home longer. Lively is an activity-sharing product that uses passive sensors applied to everyday objects in the home to measure daily activity levels and automatically notify family members or other designated caregivers when anything may be amiss. As part of the Lively service, PEP Housing residents will also receive LivelyGram, a printed mailer of photos and short messages that family members submit to shares the daily events their lives. To view a video showcasing how Lively works, click here.
According to an AARP survey, 89 percent of people over age 50 believe they're better off living in their homes. As such, PEP Housing helps make that possible by providing low-income seniors with affordable housing in Northern California. Lively, which launched in September of last year, is already helping older adult consumers remain independent and better connected, while also exploring how their product can specifically impact both residents of senior living communities as well as the efficiency of eldercare providers.
PEP Housing was selected for this trial program from a competitive field of senior living organizations who submitted their interest at a "Pitch for Pilots" competition at the AgeTech West Conference in November. The program will run for six weeks starting this month, wherein PEP residents will test the efficacy of Lively in establishing a daily activity connection between older adults' families or others concerned about their health and well-being. Surveys will be executed before and after the trial to measure how much the older adults' daily activity levels and healthy preferences have improved, the satisfaction they felt from greater inter-generational social ties, and the improvements to interactions and day-to-day operations of the PEP Housing staff.
"PEP housing is an ideal partner for Lively, as the philosophies that drive our businesses are ideally matched," said Lively's CEO, Iggy Fanlo. "Our dual mission is to empower seniors to live independently, without making cost a limiting factor. We have the potential to positively affect millions of lives worldwide."
PEP Housing Executive Director Mary Stompe, added, "Our residents are receptive to any innovation that will help them remain independent, and are excited to try Lively. It will provide them with a dignified, non-intrusive way to feel safer and more confident living on their own, while enjoying a richer connection to family members and other loved ones."
Lively's Activity Sensors
Lively's hardware uses built-in cellular technology with passive activity sensors that track day-to-day patterns, like kitchen activity, to understand when meals are prepared or consumed, time spent getting outside, and when medication is taken. With this knowledge, loved ones can worry less and avoid asking nagging questions such as, "Did you eat?" or "Did go outside today?" And the simple device stays out of the way – no video cameras, nothing to wear, and no complicated installation required to use it. An at-a-glance online display can be shared via the web or smartphone, and notifications update the user and the circle of people with whom they choose to share their activities. Lively's system is easy to set up and, in deference to the nearly 65 percent of older adults aged 75+ that lack internet access.
Pricing and Availability
Lively is currently available in the U.S. from Amazon, or by calling the company or visiting their website (http://www.mylively.com). Versions planned for other international markets will be announced in early 2014. Individual families simply pay a one-time cost of $149, which includes two months with LivelyGram, a creative way for family and friends to share short messages and pictures of their everyday activities. LivelyGram printed mailers are delivered twice monthly to the older adult. After two months, Lively's pay-as-you-go subscription for both activity sharing and LivelyGram is only $19.95 per month, with no contract required and easily cancellation at any time.
About Lively:
Headquartered in San Francisco, Lively was founded by Iggy Fanlo, David Glickman, and Keith Dutton in the summer of 2012. With collective backgrounds that include working at some of the world's most innovative consumer product companies, they've formed a vibrant team of talented individuals who share a passion for changing the way older adults stay connected across generations.
About PEP Housing:
PEP Housing (http://www.pephousing.org) was founded in 1978 in Petaluma, CA by a group of local concerned citizens, civic leaders, and clergy who wanted to provide a solution to the substandard living conditions and lack of affordable housing facing their senior citizens. Today, PEP Housing provides over 350 low-income seniors with affordable housing in 14 award-winning, service-enriched, managed properties. PEP Housing is currently developing two additional properties to accommodate the three-year resident waitlist so that towns in Northern California can benefit from PEP's successful affordable housing model and thriving senior communities.