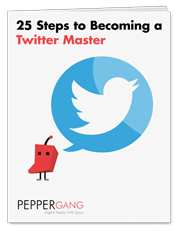 Our guide teaches how to create relationships with people on Twitter who will become powerful advocates for your brand.
(PRWEB) January 21, 2014
Boston digital marketing agency, Pepper Gang, announced that it has published a free, in-depth resource for businesses that are new to Twitter.
The guide, "25 Steps to Becoming a Twitter Master," takes readers through a step-by-step guide on every aspect of Twitter, from opening a Twitter account, to choosing a user name, profile photo, and background; to more advanced steps like hosting Twitter chats and using advanced search to find leads.
Some tips include:

Using your actual name [as your user name] engenders more trust and relationship on Twitter.
When you follow someone new, make a point to visit their profile, find a point to talk about, and start a conversation.
Adding a '.' before an @reply turns it into an @mention. That means the tweet can be seen by anyone who follows you or the Twitter account you are replying to—unlike @reply, which is only seen by people who follow both accounts.
"Twitter is an important tool in any marketing toolbox," said Stefanie Daneau, co-founder of Pepper Gang. "73% of Fortune 500 companies use it in their marketing, and for good reason. People who use Twitter tend to be huge brand advocates, and if you can create relationships with people on Twitter, you'll have a powerful team of ambassadors for your company."
Marketing directors can access the white paper online through the Pepper Gang Digital Download Resource Center.
About Pepper Gang
Pepper Gang is a Boston digital marketing agency that provides businesses with customized, strategic digital marketing solutions. With a focus on honest, compelling storytelling, Pepper Gang helps businesses of any size reach their full potential.