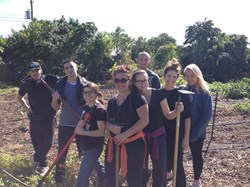 It is only natural that we team up with a wholesome organization like The Fruitful Field; beyond just being our neighbors in Pompano, they represent something much more than a gardening facility…they help a community eat
Deerfield Beach, FL (PRWEB) January 22, 2014
Created with the individual in mind, the Florida House Detox Center brings over 10 years experience in treating alcohol, heroin, opiate pain pill and prescription medication withdrawal, providing an "upscale atmosphere" in a relaxed setting for healing. The Center just recently helped its favorite local community garden, The Fruitful Field, during a January 18 event that encouraged Florida House Detox alumni to volunteer in mulching, planting, digging and picking harvest. After enduring detox and/or rehab, addiction recovery specialists at the Florida House generally encourage individuals to give back in one form or another, and this was one such opportunity the alumni offered to those in early recovery from addiction.
The Fruitful Field Parkway Tedder Community Garden & Food Forest is located behind the Parkway United Methodist Church in Pompano Beach and fuses many of the church's diverse philosophies with its own mission statement. That statement is rooted in the belief that caring for the earth should coincide with sharing with those in need while fostering spiritual health. Through the modeling of creative and sustainable uses of land, The Fruitful Field provides dynamic hands-on learning opportunities for all ages while building healthy relationships with the local community – and beyond. The January 18 Volunteer Workday, in conjunction with the Florida House Detox organization, bundled work, sun and garden food to grow, gather and give in the hopes of making this world a better place.
Believing in providing the "highest level of detoxification treatment" in a "relaxed environment," the Florida House Detox Center boasts semi-private rooms with flat screen televisions and digital cable, lavish lounge areas, outdoor tropical setting smoking regions, gourmet food and more. The Center is a state-licensed medical drug and alcohol detox complex creating individual alcohol and drug detox protocols that provide, according to Center representatives, "the safest and most comfortable detoxification experience."
"Our vision is to treat every guest with the care and comfort he or she would experience at home while providing the safety of proper medical detoxification procedures," states Dr. Albert Castellon, M.D., medical director of the Florida House Experience, which oversees all Florida House Detox operations. "It is only natural that we team up with a wholesome organization like The Fruitful Field; beyond just being our neighbors in Pompano, they represent something much more than a gardening facility…they help a community eat."
From Percocet, Vicodin, Oxycontin and Roxicodone to prescription Xanax, Valium and Klonopin, the Florida House Detox Center aims to free each of its patients from the physical agony of substance abuse withdrawal.
The Florida House Detox Center is located at 504 South Federal Highway in Deerfield Beach and can be reached by calling (888) 342-1456. For more information visit http://www.floridahousedetox.com.
The Fruitful Field is located at 100 NE 44th Street in Pompano Beach and more information can be obtained by visiting http://www.thefruitfulfield.org.