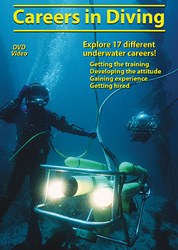 If you love the ocean, being outdoors, traveling, and meeting interesting people, then a career in diving might just be for you.
Ventura, CA (PRWEB) January 22, 2014
For anyone who loves the ocean, being outdoors, traveling, and meeting interesting people, a career in diving might just be more adventure than work! Underwater videographer, Steve Barsky and his marine biologist wife, Kristine, spent more than a year interviewing and filming divers in California, Washington, and Little Cayman to produce a new DVD video that explores 17 different careers that take people underwater to do their jobs. In this DVD, learn what skills are needed for each job, where the jobs are, and what it takes to succeed.
Each interview in Careers in Diving also includes photographs and/or video footage of the actual work that each person does. Included are marine biologists tagging lobsters, sheriff's divers jumping from helicopters, underwater photographers filming sharks, marine scientists diving under the ice, and much more! Each diving professional explains the positive and negative aspects of their jobs, although unanimously, each person interviewed is enthusiastic about what they do.
Careers in Diving, includes the following people who have made diving their life's work:
Hilaire Brosio - Hollywood Cinematographer
Rod Buckler - California Dept. Fish and Wildlife Warden
Dave Carver - Los Angeles County Sheriff's Dive Team Leader, Los
Bobby Chacon - FBI Dive Team Leader
Amanda Cotton - Underwater Photographer – A Cotton Photo Creative Works
Darryl Deleske – Marine Collector – Marinus Scientific
Glen Fritzler - Dive Boat Captain/Owner - Truth Aquatics
Szilvia Gogh - Underwater Stuntwoman
Matt Kay - Marine Biologist – Instructor, Santa Barbara City College
Lance Milbrand - Wildlife Videographer
Chris Nelson - Sea Urchin Diver
Renee Pelissier - Scuba Equipment Marketing – Ocean Technology Systems
Karen Praxel - Scuba Instructor – Ocean Adventures Dive Company
Jim Smith - Dive Store Owner – Ventura Dive and Sport
Diana Steller - Diving Safety Officer - Moss Landing Marine Laboratory
Sharon Van Niekirk - Dive Guide – Little Cayman Beach Resort
Erik Woltjen - Commercial Diver – Global Diving and Salvage
Careers in Diving was written, directed and filmed by Steven M. Barsky, a full-time professional in the diving field, who has worked as a commercial diver, underwater photographer, diving author, and diving consultant.
The run time for the program 125 minutes, but each interview can be individually viewed via the scene selection menu. The disk also includes several bonus features including deleted scenes as well director and producer bios. The program is delivered as a Standard Definition 16X9 DVD video. ISBN 978-0-9740923-7-9
Watch a preview of the DVD at http://www.hammerheadpress.com. See sample segments including a marine biologist and a sea urchin diver on YouTube. The suggested retail price is $13.95, and it can be ordered from the Hammerhead Press website, along with other diving books and DVDs.