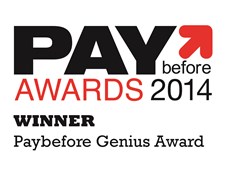 "We're so thrilled to have our solutions recognized as leading innovations in the payments space by Paybefore," said Render Dahiya, CEO of Arroweye Solutions.
Chicago, IL (PRWEB) January 22, 2014
Arroweye Solutions announced that Paybefore, the leading information provider for payments industry professionals, named the company a winner in two categories as part of its eighth annual Paybefore Awards. Arroweye's patented digital on-demand technology received the Genius Award, and the company's CustomerConnect solution was recognized as The One to Watch. The Paybefore Awards confers the most prestigious recognition of excellence in the worldwide prepaid, mobile and emerging payments industry.
"We're so thrilled to have our solutions recognized as leading innovations in the payments space by Paybefore," said Render Dahiya, CEO of Arroweye Solutions. "We developed digital on-demand and CustomerConnect to offer our customers more innovative and effective solutions for their card programs, and receiving this recognition further validates that the industry is demanding flexible alternatives."
Digital on-demand (winner of the Genius Award) and CustomerConnect (winner of The One to Watch Award) were selected by a panel of five industry experts who served as judges for this year's competition, which—once again—included a record number of entries from around the world.
"An industry is only as good as its innovators. This year's Paybefore Awards have demonstrated that prepaid, emerging and mobile payments companies always find new ways to address consumer, government and business needs," said Loraine DeBonis, Paybefore editor-in-chief and chair of the judging panel. "We are proud to recognize Arroweye Solutions' contributions to advancing the industry."
"The companies and programs recognized in the 2014 Paybefore Awards are great of examples of what can be accomplished when innovators apply thoughtfulness and payments technology to address real-world needs," added Marilyn Bochicchio, Paybefore's CEO.
A true innovator, Arroweye developed its digital on-demand technology in 2000, and the solution remains the only fully digital production solution available in the payments industry. It's a dramatic departure from traditional card production models and empowers issuers to harness new marketing and revenue opportunities, deepening their reach and gaining a competitive advantage – certainly qualified to be named "Genius."
CustomerConnect is taking card marketing to the next level, making it The One to Watch. When coupled with Arroweye's digital on-demand production technology, CustomerConnect helps card issuers turn their customer data into more personalized marketing campaigns. It allows issuers to direct messages at customers that speak directly to their needs, lifestyles and interests, leading to increased customer acquisition and lift.
Arroweye will now vie for Best-in-Category distinction in both the Genius and The One to Watch categories. Best-in-Category will be announced during the Paybefore Awards ceremony on March 4 at the All Payments Expo. People can vote for Best in Category by visiting Paybefore.com. The outcome of this vote (counted as one-sixth of the total) will be combined with the five judges' picks to determine Best-in-Category honorees.
###
About Arroweye
Arroweye is a leading, single-source provider of innovative card marketing and production solutions for the payment card industry. The company's digital on-demand technology creates a more efficient and cost-effective model for card marketers and issuers, giving them a highly customizable solution to increase their program's speed to market, adoption rates and profitability. Founded in 2000, Arroweye offers the first fully-digital card solution approved by Visa, MasterCard, American Express and Discover and continues to partner with some of the largest prepaid, credit/debit card programs in the financial and card services industries. For more information, visit http://www.arroweye.com.
About Paybefore
Paybefore is the leading information provider to prepaid, mobile and emerging payments industry professionals, offering the latest news, commentary and analysis. Paybefore's family of industry publications includes: Paybefore.com; Pay NewsTM; Pay GovTM; Pay WeekTM; Pay Op-EdTM; Pay MagazineTM, a biannual print publication featuring in-depth articles on the opportunities, challenges and trends in the global payments industry; and the only industry directory, Pay ConnectTM buyer's guide, available online and in print. Visit us at http://www.paybefore.com.