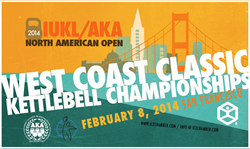 "We are expecting a great turnout for the competition, especially on the heels of the World Championships in Tyumen, Russia several months ago!" said Steven Khuong of Ice Chamber
(PRWEB) January 22, 2014
Ice Chamber, an athletic performance training center in the San Francisco Bay Area, is hosting the 2nd annual West Coast Classic Kettlebell Championships (WCCKC) on Saturday, February 8, 2014. The inaugural competition in 2013 was the first international kettlebell competition of its kind hosted in the Bay Area, and this year's competition is expected to double in size with over 100 athletes and as many as 500 spectators.
The kettlebell competition will feature international athletes from the USA, Brazil, Canada, Europe, and Australia, including World Record holder Svitlana Krechyk (formerly from Ukraine), the IUKL World's Bronze medalist Melissa Swanson (USA), and many other World Class athletes, each lifting kettlebells weighing 24kg (53 pounds) or more. During the course of the competition, competitors will lift their kettlebell overhead several hundred times, totaling more than 10,000 lbs in volume.
"We are expecting a great turnout for the competition, especially on the heels of the World Championships in Tyumen, Russia several months ago," said Steven Khuong, Certified Strength and Conditioning Specialist (CSCS) and co-founder of Ice Chamber. "We're excited to offer a world class event here in the Bay Area where international champions and beginners alike can compete together, get inspired, and have a good time."
This year a new event will be added to the competition—a co-ed relay in which athletes will jerk the kettlebells overhead for two minutes before passing the kettlebells on to the next member of the team. The team with the most points—garnered by each repetition—will take home first prize.
In addition to food, music, and prizes, the competition will showcase performances from beginners all the way up to Master of Sport International Class attempts. Absolute male and female champions in each event will receive trophies and prizes from sponsors. Event sponsors include KettleGuard (custom wrist wraps for kettlebell lifters), Athleta, Annie's Homegrown, Tencue, GU, Benchmark Pizzeria, Better Homes & Gardens Realty, Heroyk, Hylete, Celia's, Cobalt LLC, Imperial Brands Vodka, Tacubaya, Iron Bell Fitness, Kermit Lynch Wine Merchant, Malimar Skincare, Tileshop Inc., Bolt Keenley Kim LLP, and the UPS Store Berkeley.
Competition Events:
Men: Biathlon and Long Cycle
Women: Biathlon, Snatch, and Long Cycle
Co-Ed: Jerk Relay
Kettlebell Lifting is a national sport of Russia and one of the fastest growing strength sports in the world. The competition will be officiated by the American Kettlebell Association (AKA) and the International Union of Kettlebell Lifting (IUKL), whose officiates will regulate weight categories, rules, and rankings in accordance with the organization's policies. For more information regarding AKA rules, regulations, and how to pre-qualify, please visit http://aka-sport.org/.
For more information on the 2014 West Coast Classic Kettlebell Championships, please visit http://www.icechamber.com.
About Ice Chamber
Ice Chamber is an athletic performance training program with a 7,000 sq. ft. facility located in
Richmond, Calif. The company was founded by Steven Khuong, CSCS, and Maya Garcia, CSCS, both certified coaches through the National Strength and Conditioning Association (NSCA) and Master Coaches and Master Trainers with the World Kettlebell Club. Team members of Ice Chamber have lectured and taught kettlebells at Fortune 1000 corporations such as Google and The GAP, and have helped people of all ages and conditions surpass their fitness goals, from beginners up to Olympic athletes. The founders also hold the prestigious position of CEU/CEC Provider as approved by National Academy of Sports Medicine and American Council on Exercise to grant continuing education credits to professionals in the fitness industry. For more information about Ice Chamber, please visit http://www.icechamber.com.