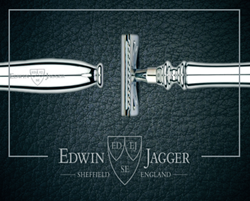 Excellence, refinement and practicality right on your counter-top
Toronto (PRWEB) January 21, 2014
In the last few years, men have been taking an increased interest in traditional, luxury alternatives to system razors and modern shaving foams and gels. For those who have decided that 2014 is the year they learn to shave like their Grandfather, online retailer Kaliandee have recently added new products from luxury British brand Edwin Jagger to their extensive line-up of razors, brushes and other men's essentials. Edwin Jagger has been producing high-end men's products in Sheffield since 1988, to the exacting standards of founder and designer Neil Jagger.
The latest additions to Kaliandee's range of Edwin Jagger products include the Imitation Horn handle version of the Chatsworth razor. The Chatsworth is arguably the most iconic of Neil Jagger's designs, the first to be produced by his company, and arguably one of the most sought-after and luxurious safety razors around. Fitted with the Edwin Jagger shave head, the Chatsworth is a smooth, comfortable shaver and works particularly well with sharper, more aggressive brands of blade. The Chatsworth is also available with Chrome, imitation ebony and imitation ivory handles.
Classic, elegant lines and flowing forms is the hallmark of Edwin Jagger design, the majority of which is executed by a small team of highly skilled craftsmen in their Sheffield premises. The Plaza line of double edge safety razors exemplifies this, with the curved lines and flowing forms characteristic of the brand. Sheffield has a long history of skilled manufacture, and is particularly known for cutlery, silverware and historically, straight razors.
John from Kaliandee was able to learn about Neil Jagger's approach to design and craftsmanship. In an exclusive interview, Neil revealed that "The designs I produce for the Edwin Jagger range are all guided by my personal desire for elegance in line and form… I have always subjected my designs to repeated testing at home while wet shaving… and by handling each product over and over again, picking it up and checking its weight and balance". Neil's passion for craftsmanship is as evident in the manufacturing of his products as it is in the design stage; "The Premium range is very much the 'handmade range'. Pretty much all the components are manufactured at the Sheffield factory site, machined from raw materials, automatically as well as most importantly hand polished…. hand inspected and finished and finally hand assembled". During particularly busy production runs, Neil can often be found getting personally involved on the factory floor, hand polishing components and assembling brushes. The full text of the interview can be found on the Kaliandee website.
Although Edwin Jagger started out producing razors, brushes and other hardware, the company now sells an excellent line of shaving soaps, creams, aftershave lotions and a pre-shave, all formulated to satisfy Neil Jagger's exacting requirements and described by him as "an extension of my character". Providing everything needed for a comfortable shave that will leave your skin hydrated and happy, the range is currently available in three fragrances; refreshing Cool Menthol, soothing Aloe Vera and the warming, classic scent of Sandalwood. The entire range is natural and parabens free and made to the high standard men have come to expect from English shaving brands.
Kaliandee is a top online destination for quality shaving and grooming products, from some of the most prestigious and well-established names in luxury men's products. Whether you need a badger hair shaving brush or a high-carbon steel straight razor, the staff at Kaliandee can help you find what you're looking for. As well as supplying grooming items, Kaliandee is also a source of advice and information, helping men to make good skincare choices.
For more information on wet-shaving and grooming topics, see Kaliandee's advice page or blog.