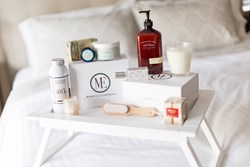 What's most important to us [...] is continuing to deliver a luxury experience to our members that no other monthly service does.
New York, NY (PRWEB) January 21, 2014
MonthlyExpress is undoubtedly the newcomer to the saturated subscription startup market. But Co-Founders Travis and Tara Loring have been quick to set their new service apart from other contenders since their launch in November of 2013. With boutique, hard-to-find, and most notably - full sized - products within their curated monthly collections, the service is more of a monthly indulgence than a subscription sample service like its competitors. The luxury experience caters to modern women with hectic lives. For the Founders, this dedication to delivering what MonthlyExpress calls "me time" to their female demographic has paid off. Just eleven weeks after their launch, the startup has completely sold out of their January collection.
But now's not the time to stop and revel, says Co-Founder and CEO Travis Loring. "Our work is constantly evolving [to] discover and bring new products to our members… this is only the beginning of our journey."
The Founders - both advertising and marketing executives in a previous life - center much of their company around the concept of "delivering happiness," an industry term first coined by Zappos CEO, Tony Hsieh. Products from around the world are hand-selected for consideration for one of their monthly collections, and undergo a vigorous screening process before they are approved for inclusion in the exclusive service. Customer service calls and emails are returned the same day, and always by the Founders themselves. All this effort, says Loring, is to "ensure that our members are as delighted as we are about the products we curate and the experience we provide. The level of experience we offer our members is - I'm confident - why women respond to our service."
Loring and Loring also attribute much of this their early success to "simply following what [they] know" and "addressing a need that [they] experience[d] firsthand". It appears women around the country would agree. Memberships are continuing to roll in despite several notes on their website that new members will only begin in February.
The startup has not been without its challenges. As with any startup, minimal capital was, and continues to be a concern. The Founders started the company with their own savings. MonthlyExpress is not venture-backed and currently has no plans to pitch for venture capital funding in the near future, but the Founders have stated that they are "evaluating all of [their] growth options."
"We're very much aware of the opportunities for expansion," says Co-Founder and COO Tara Loring, "but what's most important to us right now is continuing to deliver a luxury experience to our members that no other monthly service does. I'm confident that's why we've had such tremendous response. So we're going to keep on doing it."
About MonthlyExpress
MonthlyExpress is a membership-based subscription service offering luxurious parcels of nourishing, boutique products, delivered monthly to your door. Members discover master-crafted, hard-to-find, and even limited-supply high-end products from shops and brands all over the globe with each shipment. MonthlyExpress is a way to savor replenishing moments of ME time, any time. These carefully curated and finely crafted collections also make for the perfect gifts for the haute hostess, an appreciated colleague, or a special lady. For more information or to sign up for a membership, visit MonthlyExpress online at http://www.monthlyexpress.com. They can be found on Facebook at http://www.facebook.com/monthlyexpress and on Twitter at @MonthlyExpress.