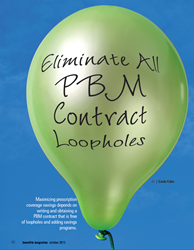 "If your PBM contract allows your PBM to price drugs based on MAC, your PBM contract needs to be scrapped."
Morristown, NJ (PRWEB) January 22, 2014
Recognizing that Health Plan executives are beginning to make plans to conduct RFPs, a nationally recognized PBM expert has spoken out to urge executives to use their RFP leverage to change their PBM contracts, not ask useless questions in RFP questionnaires.
"If you focus on writing airtight contract definitions for every key term - like 'Brand Drug' and 'Generic Drug' and 'Specialty Drug' - and ensuring that every dispensed drug has a financial guarantee controlling your invoiced price - your PBM RFP will definitely result in lower prescription coverage costs," says Linda Cahn, head of Pharmacy Benefit Consultants. "But if you focus on generating a more extensive RFP Questionnaire, you'll accomplish very little, if anything, with your RFP," warns Cahn.
Cahn knows of what she speaks. Her consulting firm has conducted numerous contract-focused RFPs in recent years for corporations, unions, government entities and insurance companies. And her firm has saved its clients tens of millions of dollars when doing so. How? By drafting an entirely different form of PBM contract, "bidding out" the contract at the beginning of the RFP, and requiring every PBM Contestant to accept her firm's airtight contract terms if the PBM wants to win the RFP.
She's also detailed in a recent article in the IFEBP's Benefits magazine the steps that every Health Plan must take to use its RFP leverage to extract an entirely different form of contract.
The article - captioned "Eliminate All PBM Contract Loopholes" - outlines basic contracting concepts that every Health Plan can implement. It also provides detailed contract recommendations related to 8 substantive areas: (i) drafting airtight contract definitions; (ii) obtaining real (not fake) pass-through pricing; (iii) writing meaningful financial guarantees; (iv) mandating real transparency and complete audit rights; (vi) creating re-negotiation and carve-out rights that currently don't exist in almost any PBM contract; vi) changing client's and PBM's contract termination rights; and (viii) eliminating "savings program" loopholes.
Linda Cahn also urges every HR executive, general counsel and insurance company team to begin this new year by examining their existing PBM contract and identifying every "loophole" that's allowing their PBMs to overcharge for drugs.
"Ask yourself," suggests Cahn, "Is my contract's definition for 'Specialty Drug' airtight, because it cross-references to a list of every Specialty Drug in the marketplace. Or does it instead loosely define a Specialty Drugs as 'any drug that may require special handling' (a meaningless definition)?" Cahn adds that every PBM contract must also contain a "default discount guarantee" for new-to-market Specialty Drugs, lest PBMs charge whatever they want for every new, high-cost Specialty Drug that enters the market.
Linda Cahn also recommends: "Look at your financial guarantees and make sure that each guarantee identifies which drugs must be included - and excluded - from the guarantee." Otherwise, says Cahn, when you conduct an audit, your auditor will include certain drugs in a guarantee - and your PBM will claim they should be excluded - and you'll never recoup the amounts you were overcharged.
Cahn also tells plans to search their existing contracts for MAC (Maximum Allowable Cost) terms: "If your PBM contract allows your PBM to price generic drugs based on MAC, your PBM contract needs to be scrapped," says Cahn. After all, MAC pricing allows a PBM to create any invoiced prices the PBM wants to create, and change those prices whenever the PBM wants to change them, explains Cahn. "What kind of financial protection does that offer you on generic drugs, the very drugs that you are relying on to obtain savings?" asks Cahn.
Cahn concludes that in these tough economic times when everyone's health care costs are spiraling out of control, no health plan can afford to hemorrhage money from a PBM contract that's stuffed with dozens of unidentified loopholes. Accordingly, she urges every health plan executive to examine its PBM contract, write an entirely different form of contract that will eliminate all those loopholes, and then use the leverage of a RFP to extract the loop-hole free contract before a PBM Finalist is selected. "That's what will ensure lower costs - and better services - from your next PBM. Not obtaining scores of answers to lengthy questions contained in a mega-page questionnaire."
For further information, interested parties should feel free to contact Linda Cahn at Pharmacy Benefit Consultants. Phone: 973 975-0900. Email: [email protected]