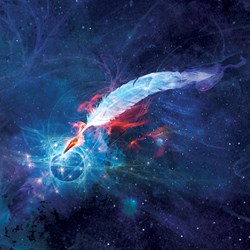 Hollywood, CA (PRWEB) January 22, 2014
Jon Eno of Bluff Dale, Texas was honored at the 29th Annual L. Ron Hubbard Achievement awards held in April of 2013. The event celebrated the twenty-four annual winners in the L. Ron Hubbard Writers and Illustrators of the Future Contests, where Eno was one of the twelve illustrator winners. His art was published in the bestselling Science Fiction and Fantasy anthology series – L. Ron Hubbard Presents Writers of the Future Volume XXIX. Jon is not stopping there. He is determined to win the Writers of the Future Contest as well, and this past quarter was awarded an Honorable Mention in the writers contest. There are five categories in the contest: a no-win, honorable mention, semi-finalist and finalist.
There have been three others in the history of the contest to win both the writer side and the illustrator side, but none have won both contests in the same year. Stephen Stanley, Geir Lanesskog and Meghan Muriel have all walked before him and succeeded. Jon is looking to be the 4th such person.
"His Honorable Mention nod did not advance him to the finals but is a good sign that he has talent," Dave Wolverton, contest coordinating judge stated.
The Contest was initiated by L. Ron Hubbard in 1983 shortly after returning to the field of science fiction with his bestseller Battlefield Earth.
For more information on the contest, go to http://www.writersofthefuture.com.