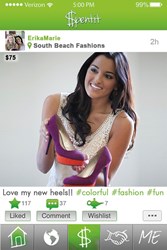 "Spentit is the place where you can show-off without 'showing-off' " - Ryan Napier Co-founder
(PRWEB) January 21, 2014
The breaking news and consumer guide, NewsWatch, recently highlighted Spentit as the featured app of the week on the ION network on January 20. Spentit, the purchase-sharing app, was designed for shoppers to showcase their recent purchases, and was featured as an up-and-coming app to keep consumers informed of trends and best buys.
NewsWatch has been running for more than three decades, and airs on more than 55 stations. Each segment is aired more than 240 times, and can be seen by more than 100 million households across the nation. The program covers breaking consumer and technology news, as well as health and entertainment topics. It airs weekly on the ION Network, as well as monthly on the History Channel.
The spotlight is yet another in a growing line of media mentions for Spentit. The app, which can be downloaded for free on the App store, is quickly gaining momentum – and it is easy to see why. Spentit allows users to upload photos of their recent purchases to share on the new social media network. The posts include information, such as the venue of purchase, price, and product features like the color or types of functioning capabilities.
In this regard, users can see what's hot and where they can buy a desired product. Should an avid fan of clothing designer Rebecca Minkoff want to constantly monitor the prices of dresses and what stores carry them – well, this app can help keep networks in the know-how.
"Since our launch, we have seen tremendous growth. Spentit is the place where you can show-off without 'showing-off' " said Ryan Napier, Spentit's co-founder and CEO. "On other social media apps it isn't as socially acceptable to share your purchase for fear of being labeled 'stuck-up' but with Spentit sharing your purchases is exactly what you are supposed to do!"
The setup of the free app is fairly simple, and merely requires basic information and a profile picture. Users can link to Facebook to network with friends, and then can use the platform to browse a variety of categories to tag and label their purchases, as well as to search for recent purchases made by others. Categories include those of Hair & Beauty, Fitness, DIY, Crafts, Food & Drink, and more, for easy searching and app navigation.
In addition, users can also make wishlists to keep record of desired items. Spentit just recently marked the close of the holiday shopping season in 2013 with an increase in downloads, in part because the wishlist feature makes purchasing gifts for family and friends a breeze. No more guessing what to get people, with Spentit all you do is checkout their wishlist and you are assured of getting anyone a gift they will love!
For all inquiries and more information on Spentit, please visit http://spentit.com/.
About Spentit:
Beta launched in November 2012 and officially launched in August 2013, Spentit is a unique purchase sharing social media platform for use on mobile applications, created by R&N Technologies co-founders, Nino Natale, Ryan Napier, Andrew VanderLind and Aziz Ahmed. Spentit is the place where users can show-off their purchases without "showing-off". Purchases can instantly be shared with friends, family, and other users who they follow or follow them. Spentit is a fun and easy way to share interesting purchases and to get ideas of new things to buy.