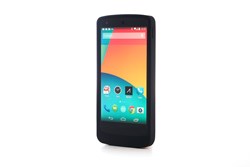 Boulder, CO (PRWEB) January 21, 2014
Limefuel announced today the availability of three new portable battery products, the powerful 24,000mAh L240X, the compact 6,000mAh L60X and the cutting-edge 2860mAh L28N5 battery case for Google's flagship Nexus 5 smartphone. The L240X and L60X expand the company's Blast product line to meet both ends of the power/portability spectrum, and the L28N5 answers consumer demand for an extended battery solution for the Google Nexus 5.
The increased prevalence of power hungry devices has generated a significant need for batteries strong enough to keep up. The L240X satisfies the voracious call for juice with an industry leading 24,000mAh stored in its 6.1 x 3.1 x 0.9 inch frame. The result is a reasonably sized battery with enough capacity to charge an iPad 4 twice over. Additionally, with two USB outputs boasting charge rates of up to 2.4A, the L240X's performance is equivalent to plugging directly into a wall outlet. The unit itself charges at 2A, significantly reducing the time required to recharge the L240X, and features pass-through charging so devices and the battery pack charge simultaneously.
Limefuel also announced the release of its L60X battery, designed to provide customers with a useful amount of power in a hyper portable package. Measuring a petit 3.6 x 1.7 x 0.9 inches, and weighing less than 4.5 oz., the L60X is shorter, thinner and lighter than any 6,000mAh battery on the market. Offering input and output speeds at 1.8A, as well as pass-through charging, the L60X sacrifices little in terms of performance in order to fit its tiny profile.
Limefuel also introduced its first ever battery case, the L28N5. The battery case features 2860mAh with a matte black finish to compliment the sleek minimalist profile of the Nexus 5. The L28N5's two piece snap-on design results in a product measuring 5.98 x 2.92 x 0.63 inches, scarcely much larger than the phone itself. The 1A input and 2A output is capable of charging the phone while in use, and the case features pass-through charging so case removal is unnecessary when recharging the phone.
Consumers can find all three of these products available for sale on Amazon.com.
About Limefuel
Limefuel was established in 2013 in Boulder, Colorado. The company produces cutting-edge external batteries for smartphones, tablets and other devices, maximizing battery capacity within the smallest possible form factors by pushing the boundaries of what current technology will allow. For more information, visit http://www.limefuel.com.
If you have any questions about our company or product, please contact us at support (at) limefuel (dot) com.