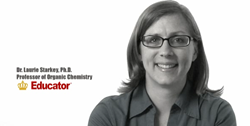 Organic Chemistry has been a very popular and helpful favorite among the Educator.com community.
Los Angeles, CA (PRWEB) February 06, 2014
Organic chemistry is everywhere--especially in the everyday items that we ingest like food, drink, and medicine. Learn the way around organic compounds with Educator.com's course on Organic Chemistry; Dr. Laurie Starkey will help you excel in your class so you can fulfill your degree or pre-medical requirements.
Dr. Laurie Starkey of Educator.com is an author and a revered professor of over 15 years. She was recently awarded Cal Poly Pomona's highest teaching honor, the Provost's Award for Excellence in Teaching in 2013. Dr. Starkey authored Introduction to Strategies for Organic Synthesis (Wiley), and earned her PhD in Chemistry from UCLA.
Through visual models, real-world examples, and thorough explanations, these lessons will help review, practice, and understand organic chemistry concepts and compound structure, properties, and reactions. Topics include the overall Structures and Properties of Organic Molecules to varied Spectroscopy and everything in between. Dr. Starkey will also cover topics like:

Stereochemistry
Nomenclature
Alkanes, Aldehydes, and Amines
Organic Synthesis
Carboxylic Acids
Biomolecules
and much, much more!
Organic Chemistry has been a very popular and helpful favorite amongst the Educator.com community. Explore the comprehensive course syllabus and free sample lessons available to you at the website. In addition, Educator offers other Science courses as well as Math, Software Training, Computer Science, AP/SAT Test Prep. Learn Biochemistry one day or Multivariable Calculus the next (with more courses being constantly added). Learn from 100+ courses anytime and anywhere and your own pace for just one subscription fee. Educator.com offers three affordable complete access plans: $45 for the initial month ($35/month thereafter), $180/6 months, and $300/12 months.
Educator.com is proud to provide today's scholars with advanced digital study materials that meet both their academic and financial needs. New and exciting courses are frequently added. At this time, Educator's Organic Chemistry lessons and accompanying free sample lessons are available for immediate viewing.
Educator.com pairs students with the best university professors and educators in the country. Educator's goal is to provide high school, college, and professional students with a variety of academic subjects in an online video format that is affordable, accessible, effective, and comprehensive.
The most effective way to improve education is to have the best teachers teach. With the best instructor in a subject, learning anything is possible. Every student deserves an excellent education regardless of geographic location or socioeconomic status and with Educator.com's affordable pricing everyone can access the site's complete content. For more information about the company please visit the About Us Page.