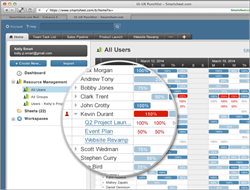 This improved visibility into our workforce is critical to our success.
Bellevue, WA (PRWEB) January 22, 2014
Today Smartsheet announced it has added resource management functionality to its online collaboration and project management tool. Now users managing projects with many contributors are able to quickly assess if team members are over- or under-utilized with a real-time dashboard displaying their availability. Managers can easily drill down and adjust allocations – all within the context of their projects.
According to a recent TechValidate survey of Smartsheet users, 97 percent cite that managing their team's time commitments and availability is important to the success of their projects. (TVID: 369-A52-1DB)
"Having the ability to track and view team resources has been one of our customers' top five most-requested enhancements," said Mark Mader, CEO and president of Smartsheet. "Staying with our core values of keeping Smartsheet easy to use and functionally rich, we embarked on designing resource management. We are encouraged by the early customer feedback that this new feature is taking the complexity out of managing projects and teams."
Bob Geramita, Manager, IT Project Management at Medidata Solutions Worldwide, explains the benefits of Smartsheet's new resource management functionality to his organization. "I can have 30+ significant IT projects going on at any one time, each involving 70 or more participants. With Smartsheet, I now have clear visibility into the availability of all my resources. This real-time transparency into how and where our team is allocated allows our management team to make faster, better decisions about prioritizing projects."
For Geramita, the stakes are high with little room for error. "If one of our major IT projects, like a network rollout or server upgrade, doesn't happen when expected because we didn't have enough resources allocated to it, it can have huge ramifications on our business. This improved visibility into our workforce is critical to our success."
One Tool for Project Managers & Resources
Now all from within Smartsheet, teams can easily collaborate and update project status while managers adjust and allocate resources based off these updates. Key functionalities include:

Receive real-time notification of over-allocated resources. Managers can proactively resolve conflicts before projects are in jeopardy.
Drill down within the context of all projects for more detail. With a simple click, users can see exactly who is allocated to what project, and to what extent.
View team allocation across multiple projects at a glance. A holistic view ensures more time is spent doing the work versus managing the tool.
Resource Management is included with Smartsheet Team & Enterprise Plans. For more information, visit http://www.smartsheet.com/resource-management.
Smartsheet is used by teams across more than 160 countries to organize, plan and execute a broad spectrum of projects and processes, including marketing campaigns, product launches, business operations, events, strategic planning and HR initiatives. The platform is deployed in a broad range of customer environments, from large enterprises including HomeAway, DHL, Toshiba, ESPN, Sony Music and MetLife to small and medium-sized organizations such as Eli Lilly Federal Credit Union, Loyola University and Cypress Grove Chevre. For more information, visit http://www.smartsheet.com/customers.
About Smartsheet
Smartsheet, a leading Software as a Service (SaaS) company, offers businesses an intuitive collaboration and work management tool. The ease of use of the familiar spreadsheet-like interface, coupled with file sharing, work automation and Gantt chart features, have made it a popular and highly functional collaboration and project management tool for nearly 2 million users. Customers include construction companies, consulting firms, schools and universities, utility firms, government entities, healthcare organizations, high-tech firms, non-profits, manufacturing and law firms, among others. Additionally, Smartsheet offers mobile apps, pre-built templates and integrations with leading cloud apps such as Box, Dropbox, Salesforce, Google Drive and Zapier to ensure users are up and running quickly. Visit http://www.smartsheet.com for more details.