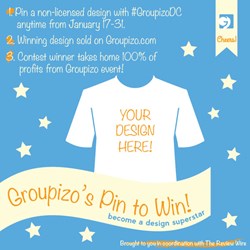 Chicago, IL (PRWEB) January 21, 2014
Izo Brands' design and sell platform, Groupizo, is back and better than ever with the Pin to Win Design Contest. Groupizo debuts its enhanced order tracking and profit measuring features for the winning design. With no cap on the potential profits from the sale of the contest winner's design, featured on custom screen printed t-shirts and sold on its own unique Groupizo page, entrants stand to win big.
The Pin to Win Design Contest, hosted by The Review Wire, offers the opportunity to win the profits from a Groupizo event. Groupizo events have netted anywhere from $100 - $1200 in profits for the designer. Design contest participants pin original creations (or other artwork they have permission to print such as their company or team logo) with the hashtag #GroupizoDC on Pinterest to enter. Entries are accepted until January 31st.
The pin accompanied by the #GroupizoDC hashtag collecting the most likes and repins is featured in a Groupizo event, publicized by Izo Brands and a hand-picked network of bloggers with devoted followings. It's estimated that the contest winner will earn $5-$12 per shirt sold. Details on how to enter the contest can be found here.
Groupizo is Izo Brands' multipurpose design and sell platform, offering a personalized ecommerce experience with timed sales events for users' custom apparel creations. Ideal for artists and budding fashion designers, its utility for charities and fundraising becomes apparent when viewed through the lens of the contest winner. Nonprofits, school boosters, PTAs and PTOs, clubs, and sports programs can all generate revenue through the sale of custom apparel without the risks and hassle of carrying physical inventory. The Izo team recently overhauled order tracking processes to increase profit visibility and production efficiency, optimizing the Groupizo experience for its target groups.
About Groupizo and Izo Brands: With Customizo, Groupizo and Snapizo, Izo Brands delivers a diverse set of customized online fulfillment solutions, a personalized design and sell ecommerce platform with fundraising (crowdfunding) applications, and mobile media distribution applications. Izo's mission is to be the most customer-centric, creative, and innovative company in the custom apparel and promotional products industries.