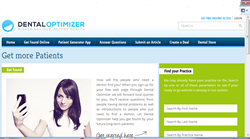 "The Dental Optimizer helps dentists educate and comfort their patients before they've even entered the building." - Andrew Clapp of Healthy Grid LLC
Portland, Oregon (PRWEB) January 22, 2014
Dentists seeking to build their patient base have a new partner in Healthy Grid LLC. Healthy Grid's Dental Optimizer gives dentists the opportunity to establish relationships with patients before they make an appointment.
"If someone out there is looking for a dentist, and we know there are many, it's likely that they have an oral health issue," says Healthy Grid's Andrew Clapp. "A lot of folks don't know how to find a dentist and there's definitely a trust issue-they want to feel confidence in the dentist they choose. We also know that when someone goes in for an appointment, they're likely to make another one. The Dental Optimizer helps dentists educate and comfort their patients before they've even entered the building."
The Dental Optimizer features a series of tools designed to stimulate interaction between dentists and the people looking for dentists. Patients are led to the site as they're searching for dental information on line.
The Ask-A-Dentist feature allows people to ask a question and receive an answer from a real dentist. When someone is searching for dental information they will be led to the Dental Optimizer site. At this point they can submit a question about their oral health and the question will be forwarded to a participating dentist. This interaction gives the dentist the opportunity to establish their expertise with the person asking. In addition, all relevant questions and answers are cataloged in the Dental Optimizer for access by other users with the name and contact information of the dentist attached.
The Best Dentist Finder is helpful to people who already know they want to find a dentist and know what they're looking for. In this case dentists are best served by the Dental Optimizer when their profiles contain more information. Details such as hours, location, specialties, languages spoken, and gender of team members all factor into the matches with people searching for a dentist. Dentists who post more of their information have an increased chance of matching with a user.
According to Clapp, one of the greatest barriers preventing people from making a dental appointment is uncertainty about the cost. The Dental Optimizer features a cost calculator that provides accurate estimates to people seeking care. The cost calculator uses information from insurance companies to determine its estimates based on the state in which the user resides. Each inquiry is given a 3-tiered estimate based on costs in the previous year. "It's our goal," explains Clapp, "to never give a low-ball estimate. We've gotten feedback from both dentists and patients: they just want to know the truth."
The Dental Optimizer also features a "widget" program that helps dentists bring some of these tools to their other web marketing sites. The Patient Generator is an application that can be attached to a dentists web page, social media pages, or their Dental Optimizer profile. When users are viewing these other pages, this application offers them the opportunity to use the Dental Optimizer features to learn more about their teeth and find a dentist.
Dentists must claim their profile to start using the features at http://www.dentaloptimizer.com/dentists/dental-web-marketing/.