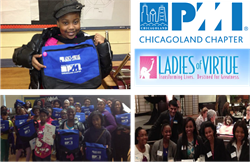 Our mission is to instill virtuous characteristics... in young women, ages 10 to 18, while preparing them for college, a career and adulthood. (Jamila Trimuel)
Chicago, Ill (PRWEB) January 22, 2014
How can a volunteer create real change? By leading, teaching, and giving. That's what Jamila Trimuel sought as she reached out to PMI-Chicagoland Chapter for support.
Founded in 2009 by Jamila M. Trimuel (formerly McClinton), tapped into the knowledge and skills of project managers to support a youth-led service-learning program, LOV CARES, that has achieved 100% success in young women over the age of 16 in finding employment and entering college.
Jamila says, " Our mission is to instill virtuous characteristics (e.g., wisdom, servant leadership, purpose, confidence) in young women, ages 10 to 18, while preparing them for college, a career and adulthood."
Highlighted in the January issue of PM Philanthropist, PMI-Chicagoland Chapter volunteers are making a dramatic impact in the lives of these young women in developing work skills and pursuing higher education. "Six PMI volunteers gave four to six hours per month as Project Advisors to 28 teens who ultimately initiated community awareness projects related to human trafficking, teen drunk driving, bullying, teen violence, and nutritional awareness." To read the full PMI Philanthropist article and learn more about the partnership, click here for access.
Trimuel notes, "Ladies of Virtue grew by 50% and now serves 42 students in the LOV CARES program. To further assist participants, Ladies of Virtue is collaborating with the Project Management Institute – Chicagoland Chapter (PMI) and NIKE in 2014!"
This is a great example and success story of how project management can help create a successful future for our youth through collaborative partnerships and dedicated volunteers.
To find out how you can make an impact using your project management knowledge and skills, contact your PMI-Chicagoland Chapter office. If you would like to find out more about Ladies of Virtue organization, please visit their website, http://www.lovirtue.com.