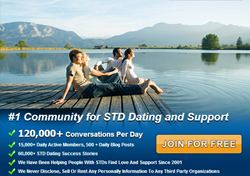 Los Angeles, CA (PRWEB) January 21, 2014
This week, PositiveSingles.com, which is the leading dating website for people with sexually transmitted diseases, has determined the interesting fact that online dating at its website using mobile applications is on the rise. This could be the beginning of the transition from stationary dating and chatting with others at the computer to mobile dating on the go, wherever the person is.
PositiveSingles.com recently realized that the number of members who log into their accounts from a mobile device, such as a smart phone, is rapidly increasing. According to data provided by the popular dating site, people who are using a mobile device has increased by about seven percent in the past year.
The rise of using cell phones and other mobile devices for checking into PositiveSingles is a reflection of the increased use of mobile devices in most aspects of people's lives. With the portability of mobile devices, single people who are infected with STDs can share their feelings in the forums that are found on the site. Members can talk about how the illness has affected their lives with their online friends no matter where they are. This offers members the ability to have more support when it is needed without having to wait to go onto a computer.
PositiveSingles.com also confirms that its members are most likely to use their smart phones during the daytime and log into a computer in the evening, about two hours after dinner.
The rise of dating through cell phones indicates the great transfer of online dating from PC to mobile use. The ability to use a mobile device makes online dating and chatting with friends more convenient and more customer friendly.
About PositiveSingles.com
As the largest and most trusted online dating site for people living with Herpes, HPV, HIV / AIDS, Hepatitis, Chlamydia, Gonorrhea, Syphilis and other STDs, PositiveSingles.com is completely anonymous and cares about members' privacy more than other sites. You are not required to submit any information that you are not comfortable with on this site. Whatever you are looking for Herpes dating, HPV dating, HIV AIDS dating, or any other STD dating, PositiveSingles.com is the best place.