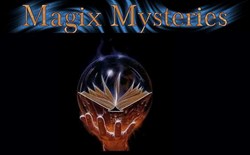 Worked at lightening speed! I received it yesterday, put it on immediately...In a matter of 24 hours or I think less time than that..I received a phone call from someone who I was interested in. (Lizabeth Ashley, Etsy 2013)
Cleveland, Ohio (PRWEB) January 22, 2014
Magix Mysteries is celebrating their first anniversary on Etsy with the premiere of their new product, the Power Ring. Each individual ring is handcrafted to the buyers request, and then is given a special spell that the buyer selects. Magix Mysteries boasts that each of their 8 signature Power Rings comes with an array of the world's most powerful spells.
One such client of Magix Mysteries bought the new LoveSings Power Ring. She said the spell "Worked at lightening speed! I received it yesterday, put it on immediately...In a matter of 24 hours or I think less time than that..I received a phone call from someone who I was interested in." (Lizabeth Ashley, Etsy 2013)
For more information about the Power Ring Collection, visit Magix Mysteries.
In preparation for the upcoming year Magix Mysteries is also holding a storewide sale. With use of the code "MAGIX30" (Magix Mysteries, Etsy 2014) the buyer will receive 30% off their entire purchase with them.
The owner of Magix Mysteries stated that the "Sale is a huge celebration not only for Magix Mysteries, but for the world in general...such turmoil and suffering has befallen so many with budget cuts and shrinking crops... We at Magix Mysteries want to help our fellowmen as we pick ourselves up from the ashes and rise again," (Bowman, Nicholas. Magix Mysteries 2014).
When asked what was next for Magix Mysteries, Mr. Bowman stated that he "plans for expansion with the launch of a new website and several new products" as of this fiscal year. Plans include the power rings, a children's line of magic themed toys, and books on the subject of magic.
To stay tuned for more updates on Magix Mysteries visit their website at Magix Mysteries Website or catch them on their Facebook page.