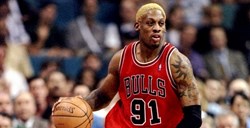 (PRWEB) January 22, 2014
Former NBA star Dennis Rodman, who was recently in hot water for some controversial comments he made while visiting North Korea for an exhibition game, has checked into alcohol rehab upon his return, according to an Explore Talent news.
Rodman has visited North Korea several times before and considers himself and dictator Kim Jong-Un to be friends. On his most previous visit, he was interviewed by CNN and made some disparaging comments about Kenneth Bae, an American citizen is being detained by the North Korean government without any formal charges having been made against him. Rodman implied in the interview that Bae was guilty of something and expressed no sympathy for his plight. His tone and demeanor then turned defensive and hostile toward the line of questioning.
Rodman has since apologized for his remarks and his behavior in the interview and other bizarre conduct while visiting abroad. He stated that he was intoxicated when he made the controversial statements and has acknowledged that he has a drinking problem and checked himself in to an alcohol rehabilitation program.
Dennis Rodman is a notorious basketball star and has had a notable acting career. His acting jobs include movies like "Double Team" and television appearances on "The Apprentice." He has had a long and successful career that is expected to continue after this temporary setback.
Since its debut in 2003, ExploreTalent has become the Internet's largest resource for actors, models, musicians, dancers, and production crew. Explore Talent's proprietary cast match technology is the most advanced entertainment-based technology of its kind. It matches a talent's attributes against tens of thousands of job postings every day. Explore Talent's unique technology sends casting email alerts and posts auditions and jobs directly on talents' profiles, saving members hours of time from tedious searching. Explore Talent has proven to be the best possible destination for talent to find modeling and acting auditions with well over 7.9 million members and over 60,000 auditions, castings, and production jobs listed - 40 times more postings and open casting calls than any other site.
The site's popularity is based on the fact that there are many ways for talents to network, make friends and connect with other industry players, participate in a wide variety of contests and earn prizes for being active on the site. The online community has been responsible for new collaborations and business ventures in entertainment because of opportunities for individuals to network and chat with each other. Furthermore, the Explore Talent site features celebrity videos, exclusive interviews with actors, actresses, and musicians, such as Akon and T-Pain.